25,000 protest against Cyrillic signs in 'Croatian Stalingrad'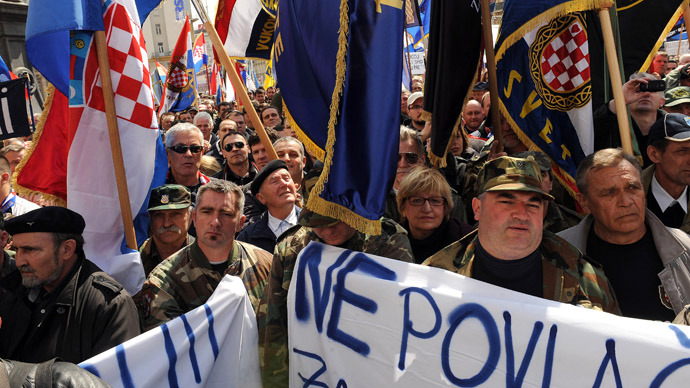 Tens of thousands Croatians have demonstrated against the introduction of the Cyrillic alphabet on street signs in the town of Vukovar, the stage of 1991 siege that started the bloody 1991-95 war.
Serbs make up about 35 per cent of the town's population. According to current Croatian legislation, ethnic minorities have the right to use their respective languages for official purposes such as the names of public institutions or streets in areas where they make up a third of the population.

However, crowds pushed for Vukovar to be excluded from the law requiring the use of Cyrillic.

"There's no way that we accept Cyrillic," the organizers' spokesman Dragutin Glasnovic told AFP. "Vukovar should be treated differently due to a special respect for its victims, on whom Croatia was founded."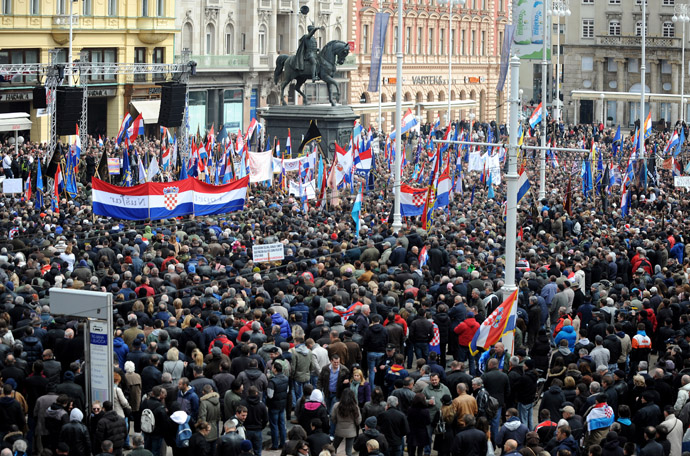 Protesters from all across Croatia wore T-shirts with the inscription "For a Croatian Vukovar - No to Cyrillic", holding banners such as "Vukovar will never be Вуковар [the name of the city in Cyrillic]." Many veterans of Croatia's 1991-95 war paraded in their military uniforms.
The 1991-95 Croatian war for independence from Yugoslavia claimed 20,000 lives. Croatia aimed to leave Yugoslavia as a sovereign country, while the Serbs opposed the secession and wanted Croatia to remain a part of Yugoslavia.
The reason for the protesters' demand is the conflict at the beginning of 1990s, when Vukovar was besieged by the Yugoslav National Army and Serb forces. The city fell after three months and was almost completely destroyed. Vukovar has sometimes been called the 'Croatian Stalingrad'.

Serbs are the country's largest minority, constituting 4 per cent of Croatia's population of 4.2 million people.

Respect for minorities' rights was a key condition for Croatia to join the European Union. Its entry into the bloc is set for July 1, following the ratification by all 27 EU member states.