Putin acknowledges Russian military serviceman were in Crimea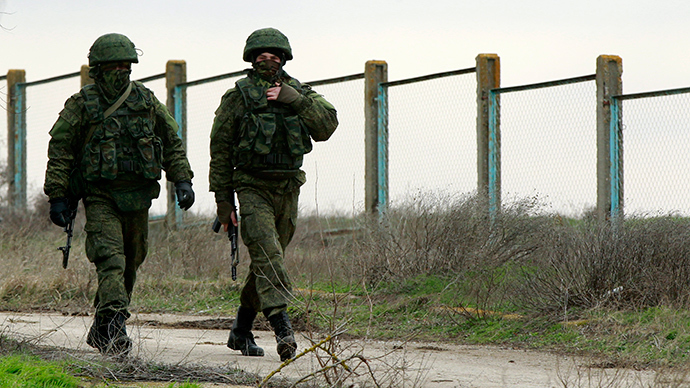 Russian President Vladimir Putin has acknowledged that Russian troops were present in Crimea before the referendum and argued that was necessary to let Crimeans make the choice on the future of the region.
The armed men in military uniform without insignia, dubbed "the little green men" or "the polite people," who were present in Crimea before and during the referendum there, were Russian troops, Vladimir Putin acknowledged speaking at a Q&A session with on Thursday. The president said he never concealed the fact from his foreign counterparts, and explained to them that it was the only way to ensure the referendum on the region's status would be carried out peacefully.

"Crimean self-defense forces were of course backed by Russian servicemen," Putin said. "They acted very appropriately, but as I've already said decisively and professionally."
Putin had to touch upon the Crimea topic multiple times throughout his Q&A session. He emphasized that Russia did not acquire Crimea by force, but created, with the help of its special forces, conditions for Crimeans to decide upon their own future.
#Putin: Russia didn't acquire #Crimea by force but created conditions with special forces for Crimeans to decide LIVE http://t.co/QRXWuUMPeq

— RT (@RT_com) April 17, 2014
"It was impossible in any other way to ensure the open, honest and decent way for people to express their opinion," the president said.
He explained that measures taken by Russia in Crimea prevented the situation there from developing the way it does now in the south and east of Ukraine.
We had to do it, the president said, so that "there would be no tanks, no nationalist military units and heavily armed people with radical views."
Putin said 20,000 Ukrainian troops were in the peninsular at the time of the referendum. Besides there were large stockpiles of weapons, including 38 S-300 anti-aircraft missile systems.
"We had to protect people from even the slightest possibility of weapons being used against civilians," the president said.
Putin said that Russia never planned any military actions in Crimea.
"Nothing was prepared in advance. Everything was done on the spur of the moment, so to speak, in accordance with the developing situation and with what the moment demanded. But everything was carried out really in a highly professional way."
At the beginning of his televised call-in with the nation Putin dismissed as "nonsense" allegations that there were Russian troops in the turbulent east of Ukraine.
"All the people that are in the eastern Ukraine are local residents," Putin said. "And the main proof is that they've taken their masks off - literally. It's their home, and they have nowhere to leave to".
You can share this story on social media: