Costs of Victory Day parade revealed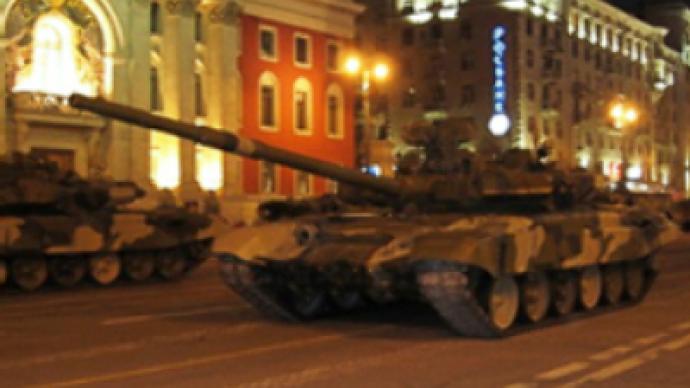 More than $US 60 million will be spent repairing Moscow's roads after Friday's Victory Day parade, according to the RIA Novosti news agency. The city's administration denies that heavy military hardware could damage the pavement but has allocated money fo
RIA Novosti quotes a Moscow government official as saying 900,000 square metres of asphalt and concrete pavement will need repairing in Red Square and Tverskaya – the city's main street.
He also reportedly noted that another $US 375,000 will be required to get Moscow utilities, sewage and drainage facilities in working order.
Temporary yellow markings have been painted on the streets for combat vehicles.
A Moscow Urban Development Department representative earlier said no street damage was caused during a final May 5 rehearsal. He pointed out tank tracks had been covered with special plastic and rubber treads to minimise the impact.
Yet the First Deputy Mayor Pyotr Biryukov announced the pavement had been slightly damaged during the parade's dress rehearsal.
Victory Day, celebrated on May 9, marks the final surrender by Nazi Germany to the U.S.S.R. in WW2. The first Victory Parade was held on Red Square on June 24, 1945 on the order of Stalin.
The latest and the most sophisticated weapons and military equipment, including the Tu-160 Blackjack and Tu-95 Bear strategic bombers, will be on display.
You can share this story on social media: