What's good for business isn't good for America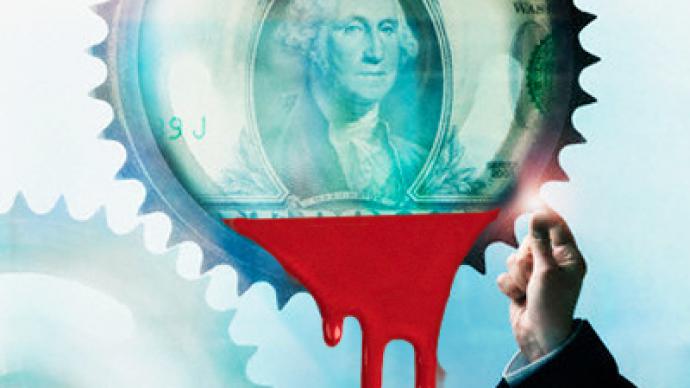 The US president is trying to win over Wall Street by asking them to help tackle what he calls "burdensome" corporate tax, but his appointment of high profile business leaders to government positions has many questioning where his loyalties lie.
For two decades, jobs and dollars have flown out of the US and across the Pacific, meanwhile the American people have suffered high unemployment and a diminished standard of living.Looking for someone to blame, politicians point to Asian countries on the rise, seemingly at America's expense.As US Congresswoman Ileana Ros-Lehtinen puts it "The American people have also borne the brunt of China's mercantile trade policies, which promote trade surpluses through cheap exports based on an artificial depreciation of China's currency."Overlooked in Washington is the US corporate jungle, which has long ago become the elephant in the room.Pepe Escobar of Asia Times says, "This is what they explain to the American middle and working class: they are both destined to oblivion because of policies decided by corporate boards inside the US, which are now global corporations."Those who agree say the problem started on Wall Street and that US corporations are to blame for hijacking American jobs and investment dollars and taking them overseas with free rein to boost their bottom lines, fueled by this mindset."So we delocalize to Asia, where the salaries are nil, there's no worker movement to cut us off from our maximization of profit," Pepe Escobar says.And in the US, it appears no lawmakers will try to cut them off either. President Obama, after pushing to regulate the business community, has taken to embracing it, making an attempt to befriend the US Chamber of Commerce."If we brought over a fruitcake when we first moved in, we would get enough for a better start," the president said.Making up for lost time, he appointed a JP Morgan Wall Street executive to be his Chief of Staff and tapped the CEO of America's fourth-largest corporation to head his council on jobs and competitiveness. That is General Electric's Jeff Immelt."I'm confident that they'll generate good ideas about how we can spur hiring, educate our workers to compete in the 21st century and attract the best jobs and businesses to America rather than seeing them spring up overseas," said President Obama.But optimism cannot overcome reality. What is good for a company like GE is not necessarily what is good for America."GE's responsibility is to do what's best for GE. If that's also best for America, great, and if it's not, too bad," mocks professor of economics and financial analyst Max Fraad Wolff.And that goes for any company, but staring powerful corporate money and interests in the face, one should neither forget that Barack Obama's run for re-election is looming, nor that the mainstream media is beholden to the corporate owners."When you have journalists treading lightly around corporate and governmental elites, it almost defeats the reason for their even existing," shared Steve Rendall, Senior Analyst at FAIR.Some people who criticize corporations, like Darrell Lillie, president of Local United Steelworkers, find themselves locked out of the conversation."It's all about helping the bottom line whatever it takes. It is definitely profit over people," Darrell says.And some economists argue profit comes over America's prosperity too."It's quite often that what's good for business isn't good for America" concludes Max Fraad Wolff.
You can share this story on social media: