Ready for 'common sense' copyright? Finnish parliament to consider crowdsourced IP law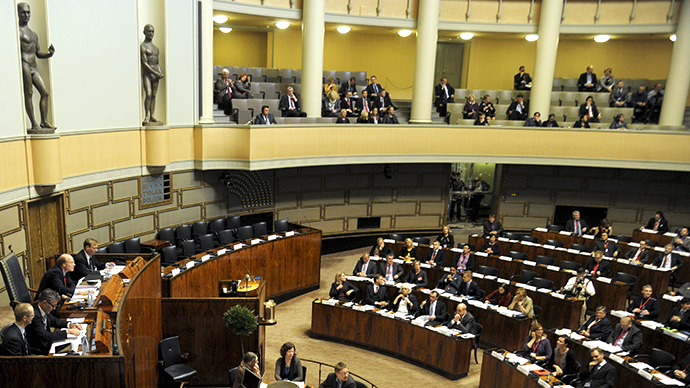 Finland's parliament will become the first in the world to examine a citizen-drafted copyright law, after an outline of an "anti-lobbyist" intellectual property bill garnered over 50,000 votes on a legal initiatives website.
The Common Sense in Copyright Act seeks to roll back stricter punishments for infringements that have been in force since 2005. Among the proposed measures are reducing illegal downloading from a crime to a misdemeanor, allowing people to make copies of digital data they own, and widening "fair use" of copyrighted materials.
The authors, a non-governmental activist group, say the act is "not a pro-piracy law" but merely seeks to "alleviate the overly strict copyright regulations" and bring Finland in line with other countries.
It was made possible by Open Ministry, an innovative public proposal website that has been in operation since last year. Anyone can place a potential piece of legislation on the website, and if it is endorsed by over 50,000 people - just over one per cent of the country's electorate - within six months, it goes before a parliamentary committee.
The Common Sense in Copyright Act reached the threshold with one day to spare, boosted by a word-of-mouth campaign that heavily featured a 9-year-old girl who had her "Winnie the Pooh" laptop confiscated by the police for downloading a single album.
The US operates a superficially similar petitioning program called 'We the People,' although citizens have to gather 100,000 signatures to receive an official response from the White House on a relevant issue - without any promise of follow-up steps being taken.
Open Ministry has publicly endorsed the proposed copyright act, suggesting it marks a sea change in how legislation is made in the country.
"Members of Parliament are quite open about the fact that copyright laws are handed down to them from the international lobbyists. If we do not push back, they will keep on rubber-stamping harsh legislation and infringing on consumer rights," Joonas Pekkanen, Chairman of Open Ministry, told Torrentfreak website.
The breakthrough does not, however, guarantee that Finnish deputies will vote for the proposal - or even vote at all. The parliamentary commission has to first decide on the legal validity of the initiative - which may clash with other international treaties to which the country is a signatory. If it passes the first filter, the vote will likely take place at the beginning of next year.
So far only one Open Ministry proposal has gone before deputies. A law banning all fur farming was resoundingly defeated last month. A bill on gay marriage has yet to be considered, after easily passing the 50,000 threshold.

But activists behind the Common Sense in Copyright Act are undaunted.
Sampsa, a political street artist known as the 'Finnish Banksy' and one of the ideologues behind the proposed law, told Torrentfreak that supporters worldwide will keep the issue in the public eye over the next few months "so copyright law is changed forever" - not just in Finland, but potentially further afield.

You can share this story on social media: