Cop that! Girl's murder plot undone in sting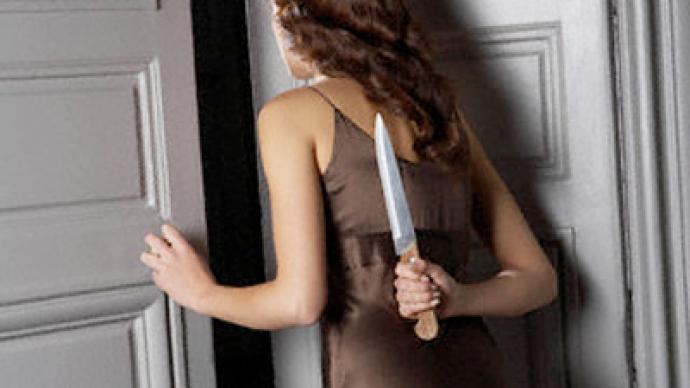 A case in which a 19-year-old student tried to execute the cold-blooded murder of her own family has shocked Russia's southern city of Volgograd.
She allegedly carefully planned the assassination of her mother and brother to get ownership of an apartment, but luckily, her diabolical scheme failed.The young woman was arrested when she came home to check that her family was dead, that is the claim of detectives who organized a sting in which the 19-year-old tried to mastermind the contract killing of her mother and brother. She has admitted her guilt, but is awaiting trial for sentencing. Volgograd, formerly known as Stalingrad, is a city of strong patriotic and family values. The world-renowned Motherland statue that dominates the city is sacred for everyone here. Naturally, most people were in shock when a local student tried to hire a hitman to kill her "loved" ones.The woman's father died in a car accident, for which she blamed her mother. Detectives say the teenager wanted her dead in revenge. They also claim she wanted her brother killed so she could inherit the family apartment. They accuse the student of coming up with a price for both killings – almost US$38,000. She also worked out a thorough plan, but unbeknownst to her, the hitmen she wanted to do the deed were undercover detectives.On a police surveillance video, the girl told the fake killers that, "We won't be holding her captive. She has to tell everyone I was at her place, that's all. And then we'll kill her and dump her in the woods. Like in the movies, you know."The police stepped in after the teenager allegedly approached a friend with the deadly plan.Officers say she gave them details of her brother's and mother's movements, as well as family photos, and supplied the supposed assassins with knives. Denis Podymov, Senior Investigator of the Volgograd Prosecutors Office, says the arrest was a total surprise for her. "She was shocked, because she was certain: this time it all has to happen, she's dealing with serious people and she's done everything right. They convinced her by pretending they'd actually staged the murder of her mother and brother, and they even gave her what they said where their clothes, covered in blood as proof of death."Family-related contract killings in Russia have been increasing, according to investigators. Close relatives are now behind more than half of all murders-for-hire. And while in the past such crimes were more associated with gangsters or business disputes and turf-wars, police say they are becoming more common in simple family rows, particularly over property or inheritance. "Today people are ready to kill their father, their mother, their grandma. Life is being measured by real estate square meters, by amount of money in the bank account. The more expensive the apartment, the less is the cost of its owner's life," shared criminal psychologist Mikhail Vinogradov.Prosecutors say they have enough evidence to put the accused woman behind bars for ten years. She was found criminally sane and is now awaiting sentence, in a crime that has shocked Russia.
You can share this story on social media: