Constitutional Court doubts it can resolve Ukrainian crisis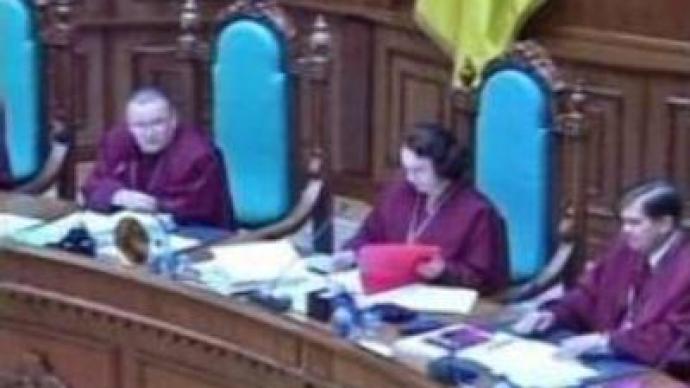 The political situation in Ukraine remains tense, with the Constitutional Court now casting doubt on whether it is actually in charge of resolving the country's political stalemate.
The Court asked to decide if it was lawful for President Viktor Yushchenko to dissolve parliament on April 2 and call fresh election. Now after sitting for 6 days, one of the eighteen judges has said the issue should be resolved by politicians and not the Court. Meantime, Ukraine's President and Prime Minister have met in an attempt to settle their dispute about how to resolve the political crisis. It is the seventh time Viktor Yushchenko and Viktor Yanukovich have met since the latest political stand-off began on April 2. It seems, they have finally started pulling in the same direction. Viktor Yushchenko is now considering postponing the election, and the Prime Minister says they can compromise before the court's verdict.
"The President now still has a chance to change the situation. Before the constitutional court decision he can suspend the decree he signed, start negotiating on the main issues and find a solution. The opposition is ready for this. We want to settle a crisis before the Constitutional court decision is made. We're afraid he can be late,"
says Viktor Yanukovich, Prime Minister.With a final resolution within sight, rival supporters have resumed demonstrations in the Ukrainian capital, Kiev, after a weekend break. Supporters loyal to the Prime minister keep constant watch at the Constitutional court.
"I think the United States instigated this new crisis. Russia and Ukraine are restoring economic ties which may lead to a partial rebirth of the Soviet Empire. This poses a threat to the West, so they make the Orange forces to rebel yet again,"
says an old woman.Supporters of the opposition parties loyal to the President think the court is corrupt, and the only way out is a fresh election.
"I think only Yushchenko gave democracy to our country. Look, no one's afraid to say anything they like now. The situation reminds me of a cage with a wild beast and whoever opens it up is getting attacked first. This happened with Yushenko who opened the gates of freedom and now everyone's biting him,"
says an opposition activist. In an interview with the British Sunday Times newspaper, Viktor Yanukovich said he believed in a pro-western course for his country. He said the so-called orange revolution had helped to purify Ukrainian society and laid the foundation for a new political system. The Prime Minister added that the difference between his position and Viktor Yushchenko's was that the President was trying to go western as soon as possible. Viktor Yanukovich said he wanted "gradual integration with the west". He also warned against joining NATO, claiming that only one-in-five of the population supported the idea.
You can share this story on social media: