Compromise in Kyrgyzstan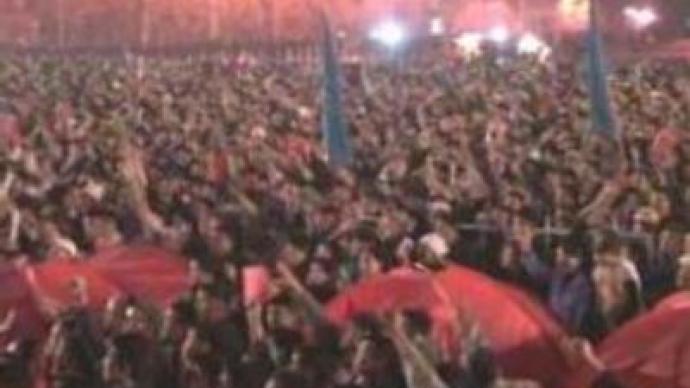 An uneasy peace has settled on the Central Asian state of Kyrgyzstan capital Bishkek after the parliament has approved a new constitution after President Kurmanbek Bakiyev finally approved a bill allowing government to vote on the draft.
Calm has returned to the Kyrgyz capital Bishkek, after earlier clashes between president Bakiyev's supporters and opposition groups. The opposition has been pushing for changes that could seriously limit the president's power. Two peaceful rallies are underway in the city's centre.Russia Today's correspondent Anissa Naouai reports from Bishkek:
The president Bakiyev has approved the bill, which has given the Kyrgyz parliament the right to adopt a new constitution. Things are moving very quickly here in Bishkek. The draft to the new constitution has already gone through authorities approves. Celebrations by the opposition are already taking place in Bishkek. The draft of the new constitution has already been sent back to president Bakiyev and Kyrgyzstan will have a new form of government as early, as of tonight. As it was reported earlier, the settled peace comes after opposition leaders reached a compromise on Tuesday with pro-Presidential MPs to end days of protests in the country's capital, Bishkek.As for the draft new constitution, under the document, the country becomes a parliamentary-presidential republic.The Prime minister becomes the head of the state, while the President is left with representative function. Protesters – For Reform! opposition movement – called for the resignation of the president and a constitutional reform.Under the law, if two thirds of the 75-seat chamber approve the new constitution, the president will have to accept it.
You can share this story on social media: