Russians advised to leave Egypt amidst turmoil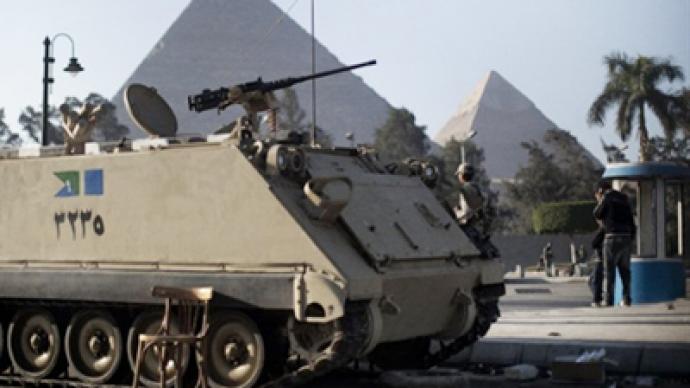 Russia's Foreign Affairs Ministry expressed hope that the situation in Egypt would become stable soon while, at the same time, strongly urging Russian citizens to postpone trips to the country.
It also advised those nationals who are now in the country to use every means to return home."Wide-scale protests are continuing in Cairo and other Egyptian cities. Acts of civil disobedience are often accompanied by disorder and acts of looting," said Foreign Ministry spokesman Aleksandr Lukashevich. " As law enforcement agencies have proven incapable of controlling the situation on a number of occasions, neighborhoods have formed militias to protect against looters," said Lukashevich.
The Russian embassy in Egypt has said there is no reason for evacuations as regular flights from Egypt continue operating and very few Russians have asked for help. Reports suggest it remains relatively quiet in tourist areas.  Meanwhile, a number of European countries, the US, Japan, China and other countries have stepped up efforts to evacuate their nationals from the turbulent area. Meanwhile, Russian companies evacuate employees. Lukoil has transferred some 15 people from Cairo to Dubai, reports RIA Novosti. They will be brought to Moscow on Tuesday. One more person has taken a direct flight to the Russian capital from the resort city of Hurghada on Monday. The company Novatek has evacuated its employees on Monday as well.The Russian embassy in Cairo is being guarded by the Russian military, but is ready to be evacuated at any moment, head of the consul department, Shamil Ustoev, said in an interview with Rossiyskaya Gazeta newspaper.Meanwhile some 120 Russian students studying in Al-Azhar University has asked for safe passage home, reports Interfax. The students, almost half of whom are from the Russian republic of Bashkortostan, are staying in the university's dormitory building and are afraid to leave it. The republic's government plans to help with the evacuation.
You can share this story on social media: