Surf not to be mist: 'Cloud tsunami' envelops Florida city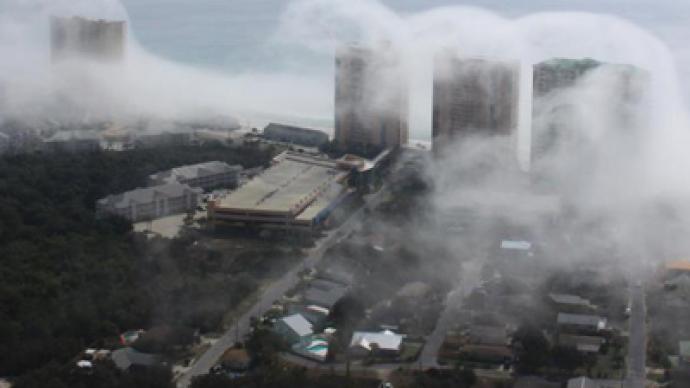 A misty "tsunami" has hit the coastline of Panama City, Florida, USA. A helicopter pilot managed to capture rare phenomenon and has posted breathtaking photos on Facebook.
JR Hott, who makes his living, flying tourists in a helicopter over the city and the Gulf of Mexico, took photos of clouds of fog developing over buildings while hovering over Panama City's coastline.
As the photographer explained to KATU News, such a phenomenon can be observed in Panama City a couple of times a year. Previously, he and his team did not dare to take off in poor visibility conditions, but this time their curiosity was overcome and they took off. "This time it was progressing west to east. We jumped into helicopter and took off," the news agency quoted him as saying. "Within a few minutes after we landed, it covered up the helipad,' the seasoned pilot said.""When the temperature, humidity and winds are just right, we'll get this fog that forms on the high rise condos on the beach," Hott wrote on his company's Facebook page.Scientists have their own explanation for this cloud bank.Warm masses of air are coming from the Gulf of Mexico, meet obstacles and rise above the skyscrapers. And at height colder air turns them into the clouds. Then they "slide" down on the opposite walls of buildings, where the clouds heat and then dissipate.For JR Hott, the popularity of his photos came as an unexpected surprise. "Oh my God, we've got thousands of shares and thousands of likes," he told journalists. "It's amazing to me how this thing has gone nuts."In late December last year, people in Alabama witnessed a similar phenomenon. However, those clouds did not hang over the buildings, but formed wave curls in the sky.
You can share this story on social media: