Clinton: More questions than answers about Syrian opposition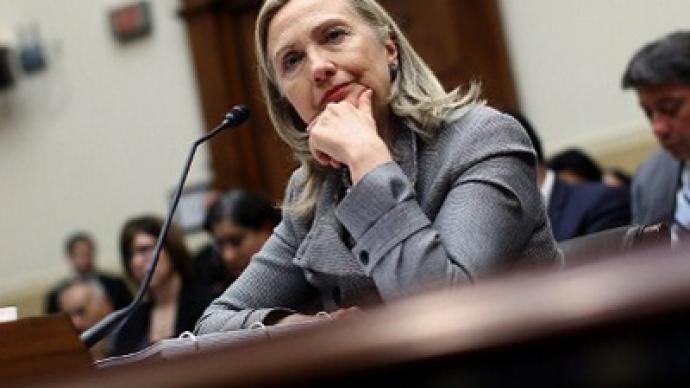 US Secretary of State Hillary Clinton has admitted that her government lacks a clear understanding of the Syrian opposition. She spoke out against arming it, saying the weapons could potentially end up in al-Qaeda's hands.
Appearing before the US House of Representatives' Appropriations subcommittee, Clinton outlined the Obama administration's view on the current state of global affairs and answered questions posed by lawmakers. Speaking about the possibility of providing arms to the Syrian opposition, a measure supported by a number of US Congressmen, Clinton evoked Libya's recent past, and said Syria's situation now was quite different, Itar-Tass reports.Clinton pointed to the fact that the Libyan opposition, led by the National Transitional Council, was a much more congruent and cohesive group that the US could work with. It is much less clear what or who exactly the Syrian opposition is, Clinton said. And with open support coming from al-Qaeda chief Ayman al-Zawahiri, Washington would be forced to ask exactly who would be on the receiving end of possible arms shipments – and just how effective they would be in promoting American interests.She also took note of the differences in military structures between the two regimes. Libya effectively lacked a regular army, while its irregular armed units led by Colonel Muammar Gaddafi's sons and close assistants were poorly equipped. Gaddafi's military units were strikingly different to the regular armed forces of Syria, which, Clinton said, possess one of the best-equipped air defenses in the world. Providing guns to the Syrian opposition would therefore be somewhat of a futile effort, given that they would have to face attack from myriad tanks and heavy artillery. Clinton's statements were similar to what she had said during an interview with CBS's Wyatt Andrews on Sunday. The interview was published on the State Department's website. "We have met some of the people from the Syrian National Council," she said, noting that "they're not inside Syria. This is not Libya, where you had a base of operations in Benghazi, where you had people who were representing the entire opposition to Libya, who were on the road meeting with me rather constantly, meeting with others."Clinton also discussed why Washington was reluctant to support the Syrian opposition with weapons, warning that such a move could end up bolstering al-Qaeda and Hamas, groups the US and many other governments consider terrorist organizations. "So maybe at best, you can smuggle in automatic weapons, maybe some other weapons that you could get in. To whom, where do you go? You can't get into Homs. Where do you go? And to whom are you delivering them? We know al-Qaeda. Zawahiri is supporting the opposition in Syria. Are we supporting al-Qaeda in Syria? Hamas is now supporting the opposition. Are we supporting Hamas in Syria?" At the same time, Clinton has not been mincing her words against Bashar Assad, saying he could be classified as a war criminal.
You can share this story on social media: