Christians caught in Jewish-Muslim crossfire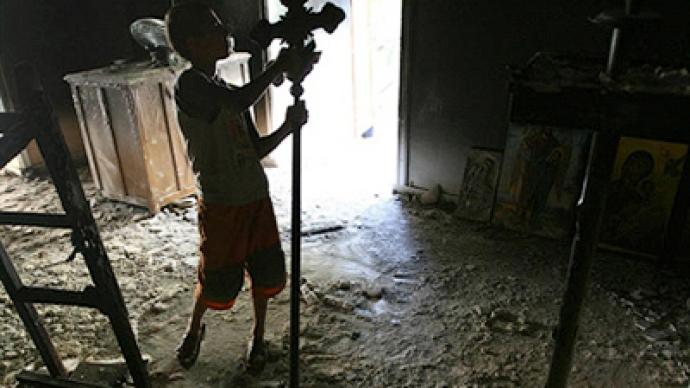 Violence against Christians is on the rise in the cradle of their faith - Israel and the Palestinian autonomy. Christians and their holy sites have been targeted by both extremist Muslims and Jews.
In recent months, attacks against Christians and Christian sites have increased. A hundred year old church was burned by right-wing Israelis who broke some of the windows and hurled Molotov cocktails inside.David Ortiz – a Christian pastor among religious Jews in the West Bank city of Ariel – lives dangerously.He's received death threats for trying to convert Jews and Muslims to his faith."My first time going into a Muslim village I got beaten up. Maybe there is friction and disapproval but that's ok – that is part of living in a democratic nation," Ortiz says.But someone hated Ortiz enough to drop off a package at his house. His 15-year-old son opened it, thinking it was just candy. The pipe bomb inside nearly killed him."It blew him to the kitchen and it made a hole in his chest that you could see his lung breathing – it took off all the skin from his thighs," Ortiz recalls.It took three years for Israeli police to catch the perpetrator – a religious Jew, Jack Teital, who lived in a nearby Israeli settlement. He had already killed two Arabs."He says he is very proud and that he did God a favor by trying to kill us," Ortiz says.Across the West Bank, the story for Palestinian Christians is as bleak, with the threat coming from both extremist Jews and Muslims.Bethlehem, the believed birthplace of Christ, once boasted a population of 85 per cent Christian. Today, not even 10 per cent live there.Maria used to go to Manger Square and teach about Jesus. But all that ended after her house was nearly burnt down and she narrowly missed being attacked in the street."I don't feel like I belong to this place anymore. I feel like I am a stranger," she says, adding that given the opportunity she would not think twice about leaving."The explosion of Muslims is – you know you feel – they are controlling everywhere and everything in this world. My granddaughter has to memorize the Koran verses. They teach them Arabic and grammar by the Koran."But Tass Abu Saada ignores the threats. He is one of a growing number of Muslims who have converted to Christianity in recent years."When I was a fighter with Arafat I hated Christians as much as I hated Jews – I was going around Jordan and looking for their homes and throwing hand grenades into their homes and shooting up their cars because I believed Christians are spies for Israel," Abu Saada says.But Christianity can sit alongside Islam and Judaism. Two Palestinian Christian brothers, Louai and Eli, volunteered to join the Israeli army and say they feel as Israeli as their Jewish and Arab counterparts."I'll give everything I have for this army because in the end, this is my country," Louai Kandalaft says.But it's not without problems."Each time i go home in uniform, someone will call at me 'traitor' and things like that. It doesn't influence me," Eli Khliaf says.
You can share this story on social media: