Price of hate: Radical Israeli settlers vandalize Christian monastery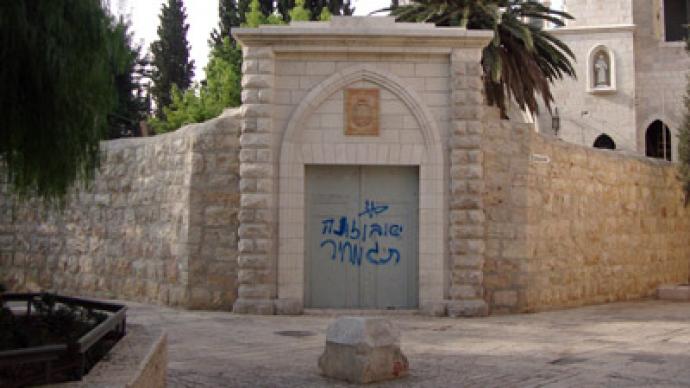 Radical Jewish settlers vandalized a Christian church outside of Jerusalem, spray-painting "Jesus is a bastard" and "price tag" on its outer door. Such attacks have been on the rise despite police promises to curb hate crimes in the Holy Land.
The blue graffiti denigrating the central figure to the Christian religion was scrawled on the door of the Franciscan Convent near the Dormition Abbey Church early on Tuesday. It was removed soon after.The Dormition Abbey Church, located on Mount Zion just outside the walls of the Old City, is believed by many Christians to be the site where the Virgin Mary died."What took place is that a church on Mount Zion was targeted. On it was written graffiti against Christianity, and 'price tag,' and now we're investigating the incident," police spokesman Mickey Rosenfeld told AFP. The term "price tag" is used to denote crimes carried out against local Palestinians or Israeli security forces in retaliation for any actions taken to curb settlement expansion."Price tag actions are contrary to the Jewish religion and causes great harm to Israel," Israeli President Shimon Peres said in a statement in response to the Mount Zion attack, Reuters reports. "Holy sites must not be harmed."
"Price tag" attacks have been on the rise in recent months, with Palestinian and Israeli-Arab cars, mosques and olive trees often targeted for arson. The perpetrators have broadened the scope of their victims in recent months, increasingly setting their sights on churches, citizens opposed to settlement expansion and Israeli soldiers.Tuesday's attack was the second targeting a Christian site in less than a month.In September, pro-settlement vandals defaced the Latrun monastery in the West Bank, writing "Jesus is a monkey" in large orange letters on its outer wall. The also torched the wooden door at the monastery entrance following the evacuation of the Migron output.In February two cars and a stone fence at the Valley of the Cross Monastery in Jerusalem were also vandalized with phrases like "Jesus drop dead" and "Death to Christians." The cars' tires were also slashed.Christian leaders denounced the attack, saying the "forces of hatred" were targeting them with these violent acts as a form of scapegoating.Prime Minister Benjamin Netanyahu said those responsible for last month's "criminal act" must be "severely punished."Rosenfeld said a special investigative unit had been created to look into the anti-Christian hate crimes.Palestinians and Israeli anti-settlement activists have questioned the effectiveness of the task force, saying little has been done to arrest those responsible for carrying out such attacks.
You can share this story on social media: