Chinese President continues his visit to Moscow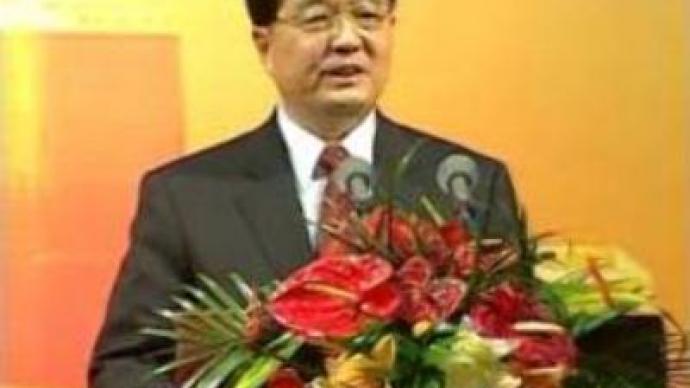 Chinese President Hu Jintao is in Moscow on a three-day visit of talks largely aimed at boosting economic ties with Russia. He has already met with Russia's Prime Minister Mikhail Fradkov.
Mr Hu has visited a school in Moscow where the Chinese language is taught. Then he joined Russia's President Vladimir Putin for the opening of the national exhibition part of the "Year of China in Russia" celebrations. The main goal of the visit remains establishing stronger energy links.Russia and China have signed agreements on trade, banking, transport and space, worth up to $US 4 BLN. A joint declaration between Russia and China and a series of documents on co-operation have been signed by members of the two delegations. Some of the issues on the table included trade, oil and energy, scientific research, investments, and the banking sector.After signing the documents, Vladimir Putin and Hu Jintao held a press conference to sum up their talks.
"Today's negotiations once again confirm the strategic nature of Russian-Chinese partnership. Our diplomatic, business and humanitarian ties are getting stronger at a fast pace. The results of the recent Year of Russia in China were very fruitful. We both agree that it demonstrated the great potential of co-operation between the peoples of our two countries. Today we have discussed the ways of developing our co-operation, and this has resulted in signing of several agreements you have just witnessed,"
said Vladimir Putin.Hu Jintao pointed out the importance of the interaction between the two countries.
"We have agreed upon the fact that the strengthening of strategic interaction between China and Russia, two permanent members of the UN Security Council, has certain importance, both from the point of view of the multipolarity of the world and developing international relations between different countries, and advancing the development of all countries in the world,"
he said.Experts say co-operation between Russia and China has been boosted in the recent years. On a political level, Russo-Chinese relations are at their peak. Both countries rely on each other not only for economic growth, but also as partners in maintaining stability in Asia.Mr Hu is also going to visit Russia's Republic of Tatarstan on the Volga river, where he is to meet Republic's President, Mintimer Shaimiyev.
You can share this story on social media: