China sends its first manned space docking mission...and first woman astronaut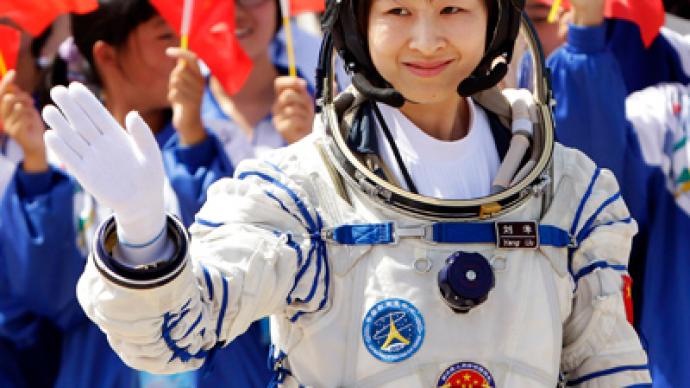 China has launched its first manned space docking mission, including the country's first ever woman astronaut. China moves one step closer to becoming the second nation in the world performing regular space flights.
The Shenzhou 9 spacecraft was successfully launched at 10:37 GMT from the Jiuquan launch center in China's north-west Gansu province boosting the country's hopes of realizing its space ambitions.
First female astronaut
On her debut flight 33-year-old Liu Yang joins two male colleagues on board Shenzhou 9.Liu, air force pilot who enlisted in the People's Liberation Army in 1997, was recruited to be an astronaut in May 2010.Chinese space program officials have proudly declared that Liu's entire training program was carried out by China."We highly appreciate mutual cooperation with Russia in the space sphere, but training of the woman-astronaut was carried out absolutely independently," space program spokeswoman Wu Ping said, adding that the launch was "a landmark event." The spacecraft will dock with the Tiangong 1 space station module, as China seeks to establish a permanent base in orbit. The main goal of the mission is to launch a manned spacecraft and work out docking procedure – both manned and automatic, the spokeswoman announced.It was also reported that two of the astronauts will live and work inside the module to test its life-support systems while the third will stay in the capsule to deal with any unexpected emergencies. The entire mission will last more than 10 days, after which the astronauts will travel back to Earth in the capsule, landing in gralsslands in western Chinese.
Chinese space ambitions
The Tiangong 1 station, however, is only a prototype as China plans to replace it with a permanent, larger, space station by 2020.Although China began its space program in the 1950s, the first manned space flight was not launched until 2003 when Shenzhou 5 with astronaut Yang Livei onboard went into space.Two years later in 2005 two Chinese astronauts performed a five-day spaceflight onboard Shenzhou 6. Today's launch is the fourth manned flight for China and the first time the crew is to dock with the module. If China's ambitious space plans are successful, the country will become the second nation in the world conducting regular flights to space stations. Currently Russia is the only nation carrying out flights to space stations, as the US has halted its space missions in 2011. The last NASA shuttle made its voyage to the International Space Station last July wrapping up a 30-year program.Tariq Malik, managing editor from Space.com, told RT that China has been very methodical in its approach to the space program. They looked at Russia's program and NASA to develop its own program and learned from their errors and successes, he said. Malik believes that next year we will see more, and longer, flights as China is trying "to really push the edges… to show what the spacecraft can do, what the astronauts can do and how long they can stay up there – based on technology China has built today."
You can share this story on social media: