Peacekeeper Menace: Pentagon sees Chinese UN missions as a threat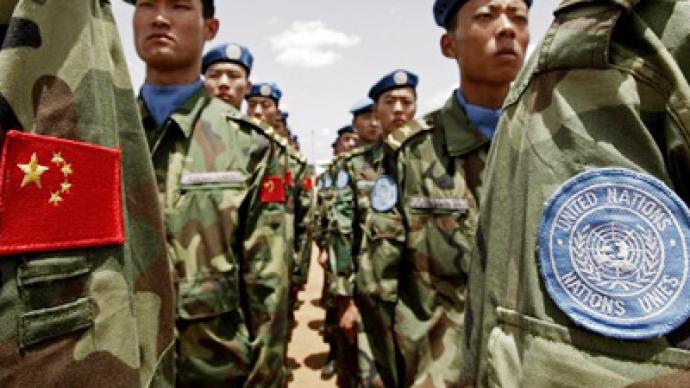 UN peacekeeping – risking your life to maintain order in a foreign land, is seen as one of the more noble roles in modern warfare, but a new Pentagon report shows that the US is more than a little alarmed at China's growing humanitarian role.
The annual Department of Defense report,to the US Congress, on China, is a key document that shapes American policy for the year ahead. It flagged all the usual concerns about China, but hidden among anxieties about the opaque defense budget, technological espionage and Taiwan, is an emerging concern about the purpose of China's peacekeeping operations.The report claims Beijing's international missions are aimed at accruing "diplomatic influence to facilitate access to markets, capital, and resources."The Pentagon also says that whatever skills are learnt during these missions, the ultimate aim is regaining control of Taiwan, which is "the principal focus and driver of much of China's military investment."
From isolationist to international arbiter
With 2,000 troops currently deployed worldwide in ten different United Nations missions, the People's Republic of China provides more peacekeeping manpower than any other permanent Security Council member.Amongst recent forays has been an evacuation in Libya during the UN mission, and a long-running anti-piracy operation in the Gulf of Aden.These briefs, while not unusual in themselves, represent a big step for the world's most populous country.After all, prior to 1990 Beijing did not deploy a single peacemaker anywhere in the world.Traditional Chinese foreign policy was based on non-interference in the affairs of sovereign states, in hope that Western countries would also exercise the same non-judgmental approach to China's internal affairs and dealings with Tibet and Taiwan.Even as it dipped its toes in multi-national operations, Beijing always insisted on sending non-combat units, such as medics or engineers.A policy shift came in 2004, when Communist Party leader Hu Jintao said that China needed to undertake "historic new missions."Outside observers have monitored China's peacekeeping of the conflict between Sudan and South Sudan, an area which supplies a tenth of its oil.Some have gone as far as to accuse China of a new African colonialism."China is now starting to settle into the role of being a great power, and maybe… wanting to look after its own interests to a greater degree," Marc Lanteigne, from the New Zealand Contemporary China Research Center at Victoria University of Wellington, told Voice of America.
No way to fight good deeds
In fact, just like China's attitude to the outside world in general, its peacekeeping is a cacophony of mixed signals.With its avowed desire to avoid military engagement, China is positioning itself as a benevolent international player, keen to chip in, but posing no danger.It also forces the country to co-operate with its natural adversaries, playing by international rules. Even the Pentagon report says that joint missions between the US and China are key to maintaining peace.But Beijing also picks its spots politically and pragmatically, refusing to send any support to the mission in US-controlled Afghanistan, but gladly assigning troops to its resource-rich allies in Africa.There is also no doubt that China is using the missions in lieu of training, particularly when sending its burgeoning but not battle-tested navy across the world, as it did when its frigate Xuzhou arrived in Libya last year.On balance the US appears to be at least partly justified in seeing China's expanded international role as a threat to its national interests. But its fears about peacekeeping are proxies for general concerns about China – its desire for regional dominance, its economic expansionism, and its lack of transparency.But however much it frets, there is nothing Washington can do about Chinese peacekeepers. No one can stop China from performing humanitarian tasks, whatever its ulterior motives.
Igor Ogorodnev, RT