Calm before the storm? US and China lie low over blind activist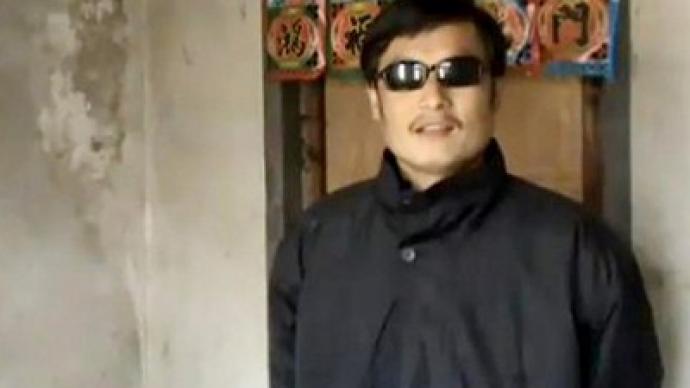 A human rights activist prosecuted by Beijing is believed to have found shelter with the US embassy. The case triggered the greatest strain in ties between the two in decades. But ahead of high-level talks officials are keeping an awkward silence.
Washington, which has traditionally been very vocal about human rights issues in China, is now tight-lipped on the case of Chen Guangcheng, a prominent dissident believed to have found shelter at the US embassy.US President Barack Obama declined to comment on the issue, adding that he is "aware of the press reports on the situation in China."However he prodded China to improve its human rights record, saying the country "will be stronger as it opens up and liberalizes its own system."Secretary of State Hillary Rodham Clinton also refrained from mentioning the blind lawyer's case, but said she would raise human rights issues at the coming meetings in Beijing. She said that "the freedom and free movement of people inside China" were "issues of great concern to us."Earlier, State Department spokeswoman Victoria Nuland also refused to answer any questions saying, "I have nothing for you on anything having to do with that matter."Chinese officials are also keeping silent.
Obama caught in vice
But the US president fighting for re-election this year is expected to regard the case. Mr. Chen's surprise escape has been dubbed by the media the biggest human-rights issue between the US and China since 1989, when the Chinese army used live fire to disperse a peaceful demonstration on Tiananmen Square, killing hundreds. Barack Obama is definitely conscious of criticism by rival Republicans that he is too soft on China over human rights issues. Mitt Romney, Obama's Republican presidential opponent, called on Obama on Sunday to ensure Mr. Chen is protected.Doing nothing to help the high-profile dissident would be a huge blow to Obama's campaign image.But apart from his re-election, the US president has to nurture the strategic partnership with China on global issues like North Korean and Iranian nuclear programs, as well as preventing a potential war between Sudan and South Sudan. Moreover Washington is increasingly reliant on foreign capital on China: the world's second-largest economy holds much of US debt.The upcoming strategic high-level talks and the need for accord made the world's two mightiest powers pretend the case does not exist.
Fabulous escape
Chen Guangcheng, a self-educated 41-year-old lawyer who fought against forced abortions, "miraculously" escaped from under house arrest. According to The Times, Mr. Chen scaled the wall that had been built around his house, slipped past his security detail and made a desperate sprint to apparent safety in Beijing. The escape was only possible thanks to his accomplices, who risked detention to help him.US-based rights group ChinaAid claims Chen is in safety at the US embassy.One of Chen's key helpers said that the lawyer wants reform, not asylum, and is not seeking to leave the country. "He was adamant that he would not apply for political asylum with any country. He certainly wants to stay in China, and demand redress for the years of illegal persecution in Shandong [his home province] and continue his efforts for Chinese society," Guo Yushan, a Beijing-based researcher and rights advocate said, Reuters cites.Both the United States and China would prefer that Chen go into exile, believes Yang Jianli, who runs the US-based group Initiatives for China. In 2006, Mr. Chen was sentenced to 51 months in prison after he was found guilty of destroying property and assembling a crowd to disrupt traffic – the charges his supporters call fabricated. He was released in 2010, but authorities in Shandong Province put him under house arrest. The move was called illegal by human rights activists: Chen's house was surrounded by police, and he and his wife were reportedly abused by their guards. The Obama administration has frequently referred to Mr. Chen's case. In November 2011 Hillary Clinton expressed alarm about his continued house arrest.
You can share this story on social media: