Highways closed as Beijing blanketed by toxic smog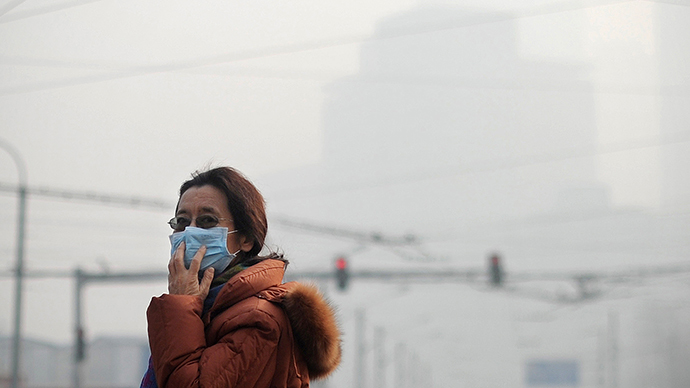 Highways were closed in Beijing as the Chinese capital was covered by thick smog engulfing skyscrapers. Pollution readings reached threatening levels of more than two dozen times the level considered safe.
The spike in air pollution began Wednesday afternoon and continued overnight, Xinhua reported, citing Beijing's Municipal Environment Protection Department. It is expected to last until Friday morning.
The average PM 2.5 index - which measures the presence of harmful particulates smaller than 2.5 micrometers - stood at 400 to 500 microgram per cubic meter on early Thursday morning. The US Embassy reported PM 2.5 rates as high as 671 at 4am. The World Health Organization considers the density of 25 micrograms per cubic meter as safe.
Many of the city's commuters put on industrial strength face masks to protect themselves from the smog. In some parts of Beijing visibility was less than 500 meters.
"The skyscrapers in the CBD have all vanished. I could barely see anything from the skywalk where I transfer subway lines every morning," a Beijing resident surnamed Li told the news agency.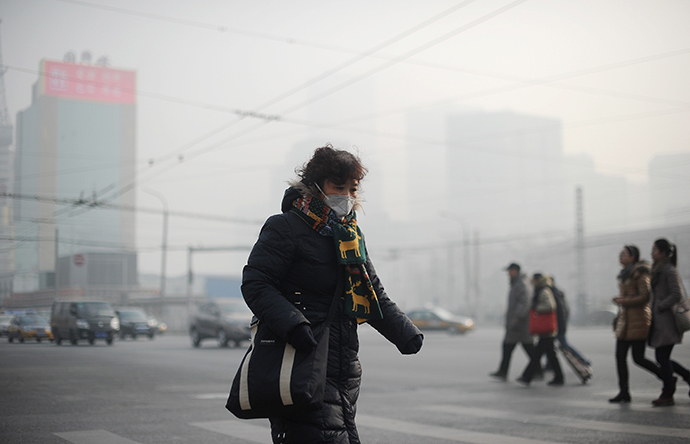 Four highways linking Beijing to Shanghai, Daqing to Guangzhou, Beijing to Harbin, and Beijing to Pinggu were temporarily closed due to the smog.
Authorities in large cities across north China recommended people to stay indoors and refrain from outdoor activities, until the pollution level drops.
Air pollution problem in China gets worse in winter, when stagnant weather patterns combine with an increase in coal-burning, leading to spikes.
The Chinese government seeks to curb pollution problems as pressure is mounting on it to address various environmental concerns. Provinces and biggest cities have been ordered to cut concentrations of some major pollutants by 5 to 25 percent by 2017.
In December, Liaoning province government fined eight cities a combined fine of some $9 million for failing to comply with national environmental standards.
You can share this story on social media: