Internet dragnet: China busts 10k for online crimes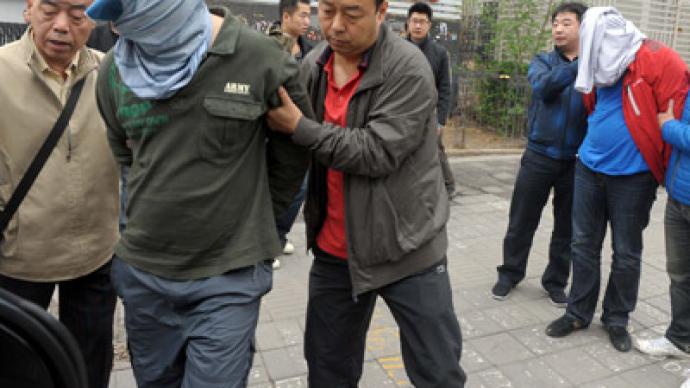 Chinese police said they have made more than 10,000 arrests as part of a three-month crackdown against individuals suspected of various online crimes.
The arrests included members of over 600 gangs using the Internet to direct their operations, according to a report by China's Xinhua news agency.The crimes the alleged suspects are charged with include the distribution of pornography, illegal trade in weapons and wiretapping devices, forging and selling professional certificates and the illegal collection and sale of personal information, the Chinese Ministry of Public Security said Wednesday.The crackdown resulted in some 3.2 million online messages deemed "harmful" being deleted. Police ordered 62 websites and online forums to remove inappropriate content, and issued sanctions against 30 ISPs for allowing users to bypass China's notorious internet censorship firewall.The Chinese government maintains the crackdown is necessary."Although illegal and harmful information on the internet has been sharply reduced through intensified crackdowns, fraudulent messages are still seen occasionally. And some telecom service providers are not strict enough when managing websites," the ministry said in a statement to Xinhua.Police are also threatening to punish internet users for any "political rumor" or "attack" directed at Communist Party leaders, the government or the country, Xinhua reports.Police Chief Fu Zhenghua said officers set up "platforms" to "report offenses on major microblog sites to reinforce oversight," the Global Times reported. Zhenghua did not define what might constitute a "political rumor" or "attack," leading many to fear possible future police abuse and censorship.China's internet censorship laws are among the strictest in the world. Earlier this month, Beijing told Chinese broadcast and internet providers that they are now required to prescreen all television programming before it airs.In a statement on its website, the State Administration of Radio, Film, and Television said that the rule is a response to the growth of online videos containing vulgar content, excessive violence and pornography.Chinese ISPs also filter search engine results, including Yahoo and Google. Beijing blocked internet users from accessing most social networking sites in 2009. Critics say the sites were blocked because they contained social and political opinions contrary to the official positions of China's ruling Communist Party.
You can share this story on social media: