China makes first aircraft carrier out of Soviet warship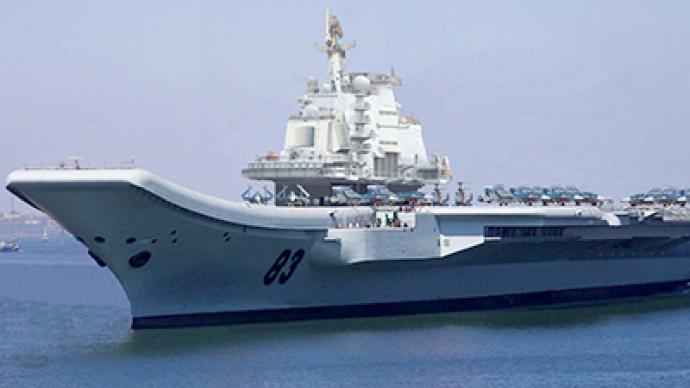 A senior Chinese general has for the first time officially confirmed that the country is building an aircraft carrier. According to experts and media reports, the vessel is the half-built Soviet warship Varyag, which China bought and is completing.
The ship is not ready yet, Colonel General Chen Bingde, head of the People's Liberation Army (PLA) general staff said in an interview with Hong Kong Commercial Daily.His aide Lieutenant General Qi Jianguo said the ship, when it is ready, will serve as a floating training camp for Navy pilots. It will not be sent on missions to territorial waters of other countries "unlike some other nations do," the general said.While not officially confirmed, defense experts believe that the aircraft carrier is the multi-role Soviet Varyag. The ship was about 60-70 per cent complete when funding stopped in 1992 after the USSR collapsed.Ukraine, which took ownership, auctioned the vessel in the late 1990s, with the Chinese offering the highest bid of $20 million.It was believed that Varyag would be examined by military engineers to copy technology and later sold to a private company to be used as an entertainment facility. This was what happened to two other Soviet aircraft carriers Kiev and Minsk, which China bought too.However, PLA chose to complete the carrier for its Navy. In April 2011, Chinese media published unofficial photos and cited unnamed sources as saying that the ship is almost ready for sea trials. Reportedly renamed Shi Lang, the ex-Varyag is docked at the Dalian shipyard in Liaoning province, Northeast China.
You can share this story on social media: