'Banned' nerve gases to be used on UK streets?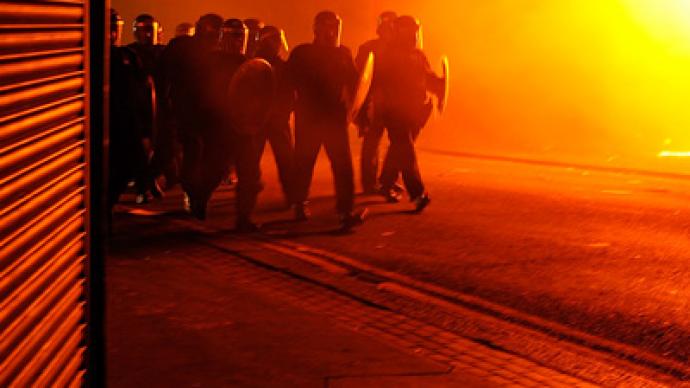 There is speculation that the UK is planning to sanction the use of chemical nerve agents against UK citizens on British streets. These could include substances whose use in warfare is banned by the Chemical Weapons Convention of 1993.
The speculation comes as leading neuroscientists have asked the government to clarify its approach to the use of chemical weapons – specifically "incapacitating chemical agents" – for law enforcement purposes. The Independent newspaper reports that the experts had been commissioned by the Royal Society to investigate new developments in neuroscience that could be of interest to the military.Currently only such chemical irritants as CS gas or pepper spray may be used for riot control. The incapacitating agents now under consideration would go way beyond such measures.The experts believe that the government might be preparing to take advantage of a loophole in the Chemical Weapons Convention allowing the use of incapacitating chemical agents for domestic law enforcement.The 1993 convention prohibits the development or use of nerve agents and other toxic chemicals by the military but there is an exemption for certain chemical agents that could be used for domestic purposes such as policing and riot control.The convention is up for review next year and the Royal Society is urging the British government to outline its plans for any change in its attitude on the use of chemical weapons for law enforcement before the review, reports the Financial Times. In its report the Royal Society states that "the UK Government should publish a statement on the reasons for its apparent recent shift in position on the interpretation of the CWC's law enforcement position." Professor Rod Flower, a biochemical pharmacologist at Queen Mary University of London, said the latest scientific insights into the human brain are leading to new way of affecting brain activity through the use of chemicals."The trouble is that it is impossible to make a safe incapacitating agent and delivery system," said Flower, who chaired the Royal Society's report."It is absolutely crucial that countries address the definition of incapacitating chemical agents under the Chemical Weapons Convention at the next review conference in 2013," he concluded.
Mark Bergfeld from the Education Activist Network told RT that UK police have overextended the use of force in demonstrations that have taken place in the country and intend to curtail people's right to protest by using chemical gases. "We need to say as citizens that the curtailing of our civil liberties and the curtailing of our right to protest in this country should be condemned."
You can share this story on social media: