Chile earthquakes 2014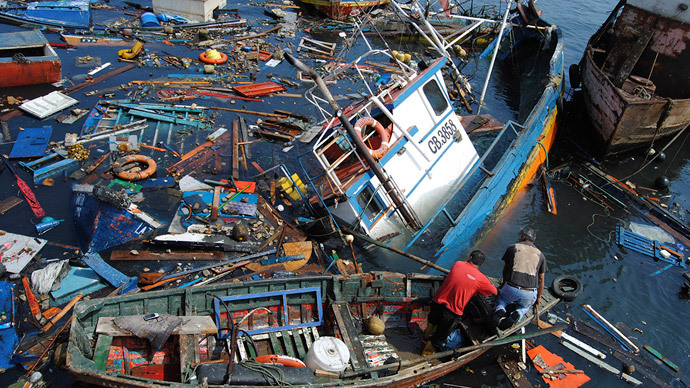 Chile has been rocked by multiple earthquakes over the last two days. Six people died in the quake. Almost a million people have been displaced, with evacuation procedures in neighboring states as well.
05 April 2014

07:46 GMT

A 4.6 magnitude earthquake hit 15 km southwest of the port city of Iquique, northern Chile, according to USGS. The quake occurred at 07:01:28 GMT at a depth of 36.0km.

04 April 2014

10:47 GMT

A 5.2 magnitude earthquake has struck 85 kilometers northwest of the port city of Iquique, Chile, the USGS reports. The tremor struck at approximately 09:38:55 GMT at a depth of 10.7 km.

03 April 2014

15:43 GMT

A 4.9 magnitude earthquake has struck 90 kilometers (54 mi) west-southwest of the port city of Iquique, Chile, the US geological survey reports. The tremor struck at approximately 15:08:08 GMT at a depth of 8.9km (5.5mi) No injuries or property damage has been reported thus far as a result of the event.

12:24 GMT

Around 20 aftershocks followed the 7.8-magnitude quake. The magnitude of the aftershocks varied between 4.5 and 6.2.

09:51 GMT

An aftershock measuring 5.0 on the Richter scale has rocked the area situated 33km from the port town of Iquique in Chile.

The depth of the tremor was 26km.

08:11 GMT

URGENT: Another 6.2 aftershock hits #Chile, near coast of Tarapaca at depth of 24 km http://t.co/rF6wNaMDgY

— RT (@RT_com) April 3, 2014

The aftershocks have caused no official reports of damage or injury in Chile or Peru, according to Reuters. Despite this, the government has ordered preventive evacuations in case of further, larger tremors.

7.8 aftershock tonight in Chile is sending S waves reverberating through the Leonard, OK seismogram #ChileEarthquakepic.twitter.com/LcqiqJR0wJ

— James Aydelott (@jamesaydelott) April 3, 2014

03:30 GMT

An aftershock as strong as 7.6 has hit the same area as the initial quake in the north of Chile. The earlier quake, which caused a tsunami, killed six people and forced almost one million others to evacuate.

The Wednesday quake occurred just before 02:43 GMT off the northern coast of Chile, 19 km (14 miles) south of Iquique, according to the US Geological Survey (USGS). The epicenter of the latest quake was located at a shallow depth of 40 km (24.9 miles).

02 April 2014

07:20 GMT

Waves as high as 2 meters striking Chile's northern coast, the Pacific Tsunami Warning Center reports.

04:36 GMT

The US territory of Hawaii gets its own tsunami warning, according to the Pacific Tsunami Warning Center.

03:39 GMT

A prison break reportedly takes place, as 300 inmates break out of an Iquique female prison, of which at least 16 were recaptured, authorities reported, TVNZ reported.