Chechen self-proclaimed government-in-exile lays down weapons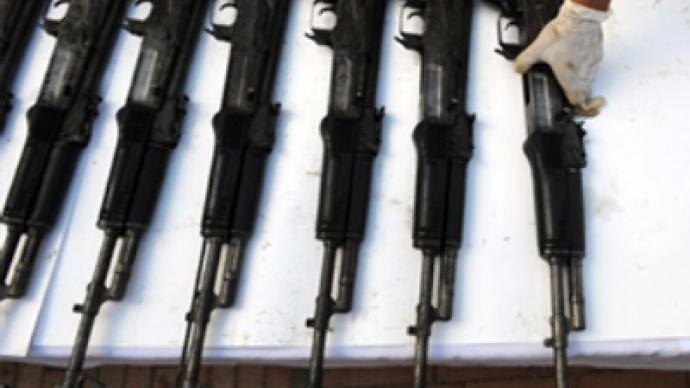 A group calling themselves the Government of Independent Chechnya have laid down their weapons, announced its leader Akhmed Zakayev following a meeting with the Chechen Parliament Speaker, reports Kommersant newspaper.
Last week, Dukhvakha Abdurakhmanov and Akhmed Zakayev held two-day negotiations in the Norwegian capital Oslo to discuss the process of reconciliation of the Chechen people. Monday's issue of Kommersant quotes him as saying:
"The leadership of Ichkeria [the Turkish name of Chechnya used by the self-proclaimed government-in-exile – RT] has taken the decision to stop armed resistance in the Chechen territory against the Chechen police forces starting August 1."
"I hope starting with this day Chechens will never shoot at each other," he added.
Zakayev, who is now living in Europe and enjoys political asylum in Great Britain, told the newspaper that he and his fellows in exile are all happy with the results of the talks, seeing them as a step towards "long hoped-for political stability in Chechnya".
On his part Abdurakhmanov assured that "Akhmed Zakayev and his comrades, as well as other Chechens living outside of Russia, will find their place on the road towards further revival of Chechnya."
"This is the time to gather stones. There are not that many Chechens in the world, only three million. We shouldn't live separately in different 'political apartments'. What kept us apart is in the past," Vremya Novostey newspaper quotes him as saying.
However, the call for immediate peace in the Chechen Republic by Zakayev is likely to fall on deaf ears. Not all militants still acting there will follow the "Ichkerian government's" order to lay down weapons. Nonetheless, Zakayev has called on them to follow the peaceful initiative.
"I hope very much that many of them will see the wrongness of the ideology thrust upon them by the so-called emiratists [proponents of an Islamic "Caucasian emirate" – RT] and support our peace initiative," he said.
Chechen President Ramzan Kadyrov has been pushing for the return of Chechen immigrants, who fled the republic during the military conflicts of the 1990s, for years. He offered to pardon those in exile who were not involved in serious crimes during that time.
In June, Kadyrov suggested that Zakayev, who has education in acting and headed the Chechen actors' labor union in the early 1990s, could take a position in the Chechen Ministry of Culture. This is not a unique situation. Magomet Khanbiev, former Ichkerian defense minister, is now a prominent official in Chechnya working on the repatriation of immigrants.
Meanwhile, Zakayev is a suspected criminal, and Russian authorities have been requesting his extradition from different European countries since 2001. He is accused of armed mutiny, organizing militant groups and attempted murder of policemen. Commenting on Kadyrov's call for Zakayev to return to Russia, Anatoly Safonov, presidential envoy on international cooperation on counter-terrorism and crime fighting said Zakayev will have to be cleared of the charges in court first.
The meeting in Oslo between Zakayev and Abdurakhmanov was organized by the director of the Norway-based NGO "Chechnya Peace Forum" Ivar Amundsen. The next meeting is expected to take place in London within a fortnight.
You can share this story on social media: