Chechens vow 'dino-egg' hunt after finding is stoned (PHOTOS)
Published time: 23 May, 2012 16:15
Edited time: 23 May, 2012 20:15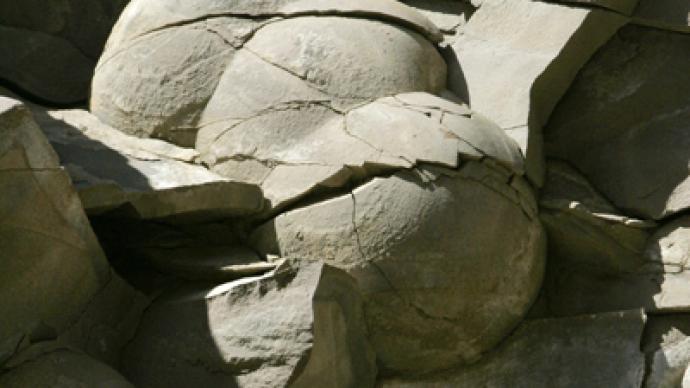 Massive fossilized "dinosaur eggs" discovered by Chechen scientists turned out to be mere rocks, Moscow paleontologists have proved. The Caucasus "dino hunters" behind the claim promise to keep searching.
Dubbed the Chechen discovery of the century, forty sphere-like fossils were found in April on a construction site near the republic's border with Georgia, creating a positively Jurassic media fuss.
The area immediately became a magnet for dino-fans, and locals started rubbing their hands in the hope of a tourism boost in the remote village.
Local hopes, however, were dashed. An examination by Moscow scientists showed that the "60-million-year-old eggs" are actually of geological origin – that is, they were just rocks.
"There is simply no continental sediment of this age in the Chechen republic," senior researcher Kirill Eskov told RIA-Novosti. "And real dinosaur eggs found recently were much smaller than these fossils – around 15 to 25 centimeters in diameter, not 25."
Still, scientists at Chechnya State University's geological faculty are not giving up. They have promised to continue their hunting in the hope of unearthing an egg-sample that will prove Moscow wrong – demonstrating that massive pre-historic predators did wander the territory of modern-day Chechnya.
"We have already found a jaw and a skeleton of some pre-historic animal," said a researcher at the Chechen geological university. "If it lived here, it must have laid eggs."
A man looks at what is believed to be fossilised dinosaur eggs at a site in Russia's volatile Chechnya region April 14, 2012 (Reuters/Yelena Fitkulina)
'Dino eggs' (RIA Novosti / Said Tsarnaev)