Deafening silence: Chavez absent from inauguration celebrations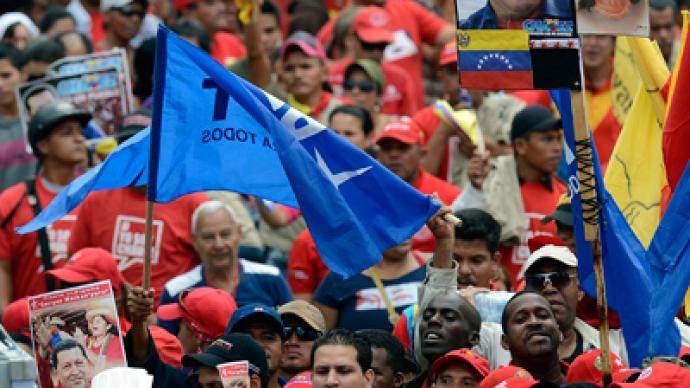 Loud chants and massive crowds marked the day set aside for Venezuela President Hugo Chavez's inauguration in the capital. But the leader's absence hung in the air, as Chavez was too ill to attend, postponing the swearing-in ceremony indefinitely.
People have attended the rally to pay homage to Chavez in front of the Miraflores presidential palace in Caracas in order to wish him well.Venezuelans waved red flags and wore red shirts (the color of Chavez's socialist movement) and shouted slogans, as bands played patriotic anthems.
Vice-President Nicolas Maduro led the supporters in reciting an oath of 'absolute loyalty' to Chavez and his revolution.The crowd chanted the mantra together, "I swear by the Bolivarian Constitution that I will defend the presidency of Commander Chávez in the streets, with reason, with truth and with the strength and intelligence of a people that has liberated itself from the yoke of the bourgeoisie."Presidents from allied countries also arrived to show their support, including Jose Mujica of Uruguay, Evo Morales of Bolivia and Daniel Ortega of Nicaragua.
"He's not here, but we're all here as if he were with us," supporter Florencio Rondon told NPR. "He is the greatest thing we have. He may not be here, but he lives in our hearts."The Supreme Court on Wednesday ruled to postpone Chavez's swearing-in ceremony indefinitely, so his existing administration could remain in office until he is well enough to take the oath.Chavez, who has been in power for 14 years, has been receiving treatment since June 2011 for what has been described only as cancer in the pelvic region.Last month Chavez underwent cancer surgery in Cuba and is currently under recovery from what the government is calling severe pulmonary infection that had resulted in a "respiratory insufficiency", as a result of complications from surgery. The leader's condition remains unknown. Venezuelans have not heard directly from Chavez in a month and he did not send a message or a video recording to the crowd of supporters gathered.
Chavez's opposition
Despite the high turnout at the rally, opposition parties are asking for more details of Chavez's condition and are calling the delay of the formal swearing-in a violation of constitution.The opposition is said to be organizing a counter-demonstration on January 23."We want to especially address the people of Venezuela, and summon the entire country to give a massive demonstration of force in the streets," a deputy speaking on behalf of the parliamentary opposition Miriam Montilla told France24.
Geopolitical analyst Eric Draitser believes the Chavez government could face a threat from abroad in the absence of its charismatic leader, but internal destabilization is unlikely. "The opposition, despite all the posturing, lacks a real base of support on the ground. As we saw in the results of the recent elections opposition is still very much in the minority", Draitser told RT. "In terms of international destabilization, using this opposition, is a very real possibility."He recounts the coup of 2002 that was "successful at least for 24 hours against Chavez, but later failed, just as any future coup will at this moment."
You can share this story on social media: