Russians gather aid for fire victims nationwide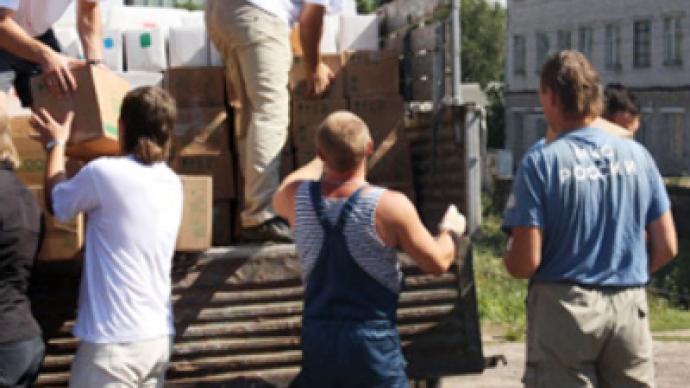 Russian citizens have gathered almost US$800,000 in aid for victims of this summer's fires, which have destroyed crops and property throughout the drought-hit country.
More than $460,000 hit the Sberbank account opened in collaboration with the Public Chamber of Russia to raise funds for fire victims, Russian news agency RIA Novosti reported on Wednesday, quoting a statement published on the bank's website. The sum is equal to about 14 million rubles.
Fire victims not only need to rebuild their houses and retrieve their burnt documents. Living essentials like food, clothes and medicine are also in great demand, as most people left their homes in a hurry – even in nightwear – to save their lives.
However, Russian citizens are not failing their compatriots in their time of need. Vital aid is being gathered nationwide.
The Russian Orthodox Church is actively participating in aid collection. Its charity fund has raised up to 9.5 million rubles, an amount equivalent to over $300,000 dollars, the fund's website states. The Church is also urging volunteers nationwide to deliver and distribute humanitarian supplies among those most in need.
Another religious organization – the Russian Council of Muftis – has announced a drive to collect essentials for fire victims, with the holy month of Ramadan starting on August 11. According to Muslim traditions, Ramadan is a month of fasting and prayers. Faithful Muslims should also dedicate themselves to good deeds, such as charity contributions and supporting those who need help during this period.
In addition, there are numerous humanitarian aid centers set up across the country where people can bring clothes, water and non-perishable supplies. About 10 tonnes of vital aid from St. Petersburg have been delivered to the Nizhny Novgorod Region and more aid will be directed to the Ryazan and Voronezh Regions, reports Regnum news agency.
In July, as a result of record-breaking heat and drought, a great number of disastrous wildfires broke out in Central Russia, forcing President Medvedev to declare a state of emergency in seven regions. At present, forests and peat bogs are still burning in 17 regions of Russia.
According to information from the Emergencies Ministry, raging wildfires have so far claimed about 50 lives, injured more that 300 and left thousands homeless.
You can share this story on social media: