Cancer teen refused boarding without document proving she'll survive flight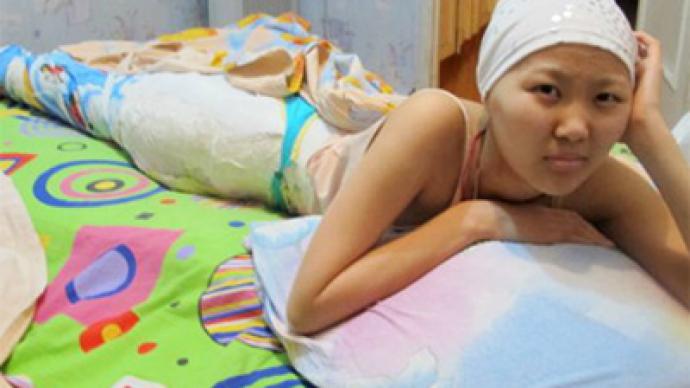 Are you sure you will survive this flight? That's what an air carrier representative asked an 18-year-old cancer patient who had just been through chemo and a leg amputation – refusing to allow her board the plane home.
For 18-year-old Siberian resident Marina Barlukova, a visit to the capital was by no means an entertaining trip. At a Moscow hospital, the girl was diagnosed with bone cancer and had her leg amputated. Having suffered all this and a course of chemotherapy, Marina and her father thought they had few obstacles left to overcome – until the air carrier, supposed to bring the family back to Ulan-Ude,  dramatically intervened.The day before the flight, Marina was contacted by a Vladivostok Avia representative, who demanded a doctor's permission certifying that the girl is in proper health condition to fly and would not die during the flight.When Marina said she was unable to provide such a document, the carrier refused to let her onboard and demanded she pay a €200 fine. The girl's father proposed to sign a remission of claim, but the representative insisted on having a doctor's certificate. "They went to such extremes as demanding the document saying that Marina would not die onboard," the girl's father told the LifeNews tabloid. "Who could possibly write such a note? God Almighty?"Confused and outraged, the girl's parents had to buy a new ticket from a different carrier. "I could never imagine such an attitude was possible here in the Russian capital!" the father said.The shocking incident caught the attention of the Prosecutor's Office, which ordered a check-up into the carrier's code. Investigators are now looking into possible reasons why the carrier could refuse service to an ill passenger and demand a fine. Normally, a passenger whose flight is cancelled receives compensation from the carrier. Meanwhile, Vladivostok Avia representatives apologized to Marina and offered a refund. They also launched their own check-up into the case, ensuring the family that those responsible for the incident would be strictly punished. Marina's father told LifeNews that most probably they will agree to settle the conflict peacefully."I don't have time to sue them because of my daughter's condition," he said.
You can share this story on social media: