Anti-protest law lands Canada on UN human rights watch list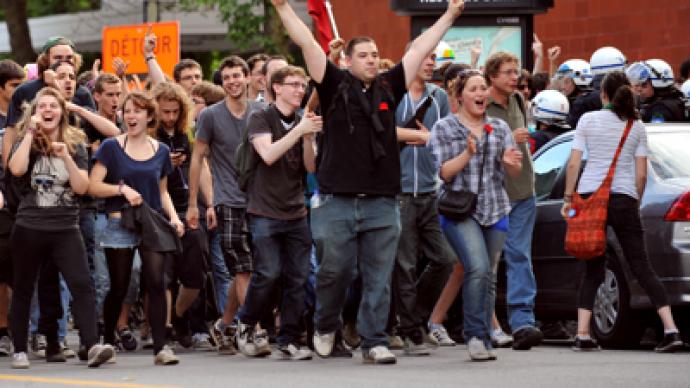 The UN High Commissioner for Human Rights is set to criticize Canada for the controversial law passed by the province of Quebec to clamp down on student tuition protests.
Navi Pillay, the United Nations' highest human rights official, is expected to lash out at the country, seen as one of the freest in the world, in a Monday address to the 47-nation UN Human Rights Council, reports the Geneva-based monitoring group UN Watch, which obtained an advance copy of her speech."Moves to restrict freedom of assembly continue to alarm me, as is the case in the province of Quebec in Canada in the context of students' protests," the commissioner is to say.Quebec's Bill 78 restricted the rules for organizing mass gatherings in the province as well as racked up fines for violations during mass events. It was issued in response to months-long student protest demonstrations, with anger over a hike in tuition fees in the province. Many saw the new legislation as too restrictive and violating the rights for assembly.UN Watch executive director Hillel Neuer, a Montreal-born lawyer, commented that "for Pillay to divert the world's attention to what in a global context is an absolutely marginal case… is simply absurd."In her speech Pillay is to voice her concerns over human rights situation in a number of countries, from the violent-torn Syria to Eritrea, where an estimated 5,000 to 10,000 political prisoners are held in custody to Nepal, where the government shut down the UN's office for human rights.The European nations of Ukraine, Moldova, Russia and Hungary are also to be negatively mentioned by the commissioner in her speech.Pillay is to call on the nations to be highly sensitive to possible repercussions for human rights in times of financial crisis and the austerity policies many countries had to introduce in response.
You can share this story on social media: