Canada digs into taxpayers' pockets to invest in cyber security
Published time: 17 Oct, 2012 19:28
Edited time: 17 Oct, 2012 23:38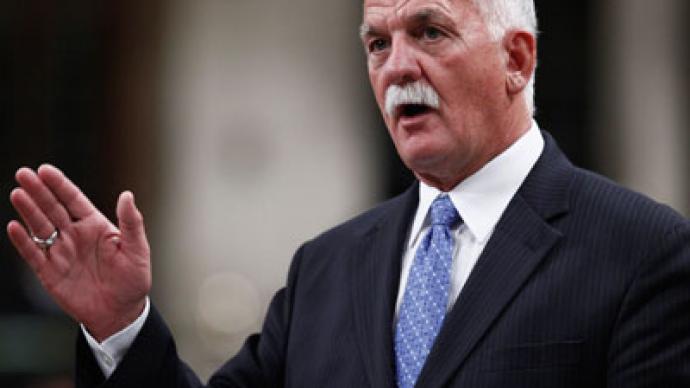 Canada is shelling out an additional $158 million to improve cyber security as the government says online attacks are threatening the country. The move comes after Leon Panetta drew a scary picture of a potential US 'Cyber Pearl Harbor.'
The spending, which will be spread out over five years, is in addition to Canada's current cyber security spending plan. The existing plan includes $90 million to be spread out over five years and $18 million ongoing. 
The money will support the Cyber Incident Response Centre – a federal agency that monitors cyber threats.
Ottawa says the goal is to ensure that Canadians and Canadian businesses are confident that the information they share with the government will stay private.
"Our government is continuously working to enhance cyber security in Canada by identifying cyber threats and vulnerabilities and by preparing for and responding to all kinds of cyber incidents to better protect Canada and Canadians," Public Safety Minister Vic Toews said in a statement.
Toews also said that some countries are more of a threat to Canada than others.  He stressed they were aware of the greatest threats to national security, but refused to give details.
"I don't think that's going to serve any particular purpose calling out any particular country at this time…I'm certainly aware of where threats come from and we are constantly being briefed by our allies on developments in that respect," he said.
It comes in the wake of a US report released last week, warning against doing business with Chinese telecom giant Huawei, because of possible Chinese cyber espionage. The company is already operating in Canada.
American Defense Secretary Leon Panetta also touched on the subject last week, warning of a potential "Cyber Pearl Harbor," in which cyber attacks would be launched on critical or military infrastructure – possibly in combination with a physical attack.
Ottawa refused to state whether or not its decision was influenced by Washington.
"The Americans make their own decisions, we make our decisions," Toews said. "We certainly look at what the Americans are doing and consider that but we will make decisions in the best interests of Canada," he continued.
The announcement comes just one week before the country's auditor general is set to release his fall report, which will include a chapter evaluating how well the government's current plan works to protect against cyber attacks.
Canada's current cyber security fell under criticism after hackers launched an attack on the federal government in 2011, stealing classified information.