'Not just a small island': Cameron defends UK after alleged diplomatic jab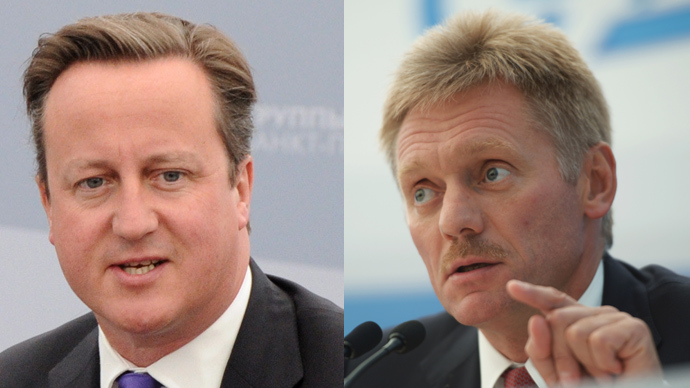 British PM David Cameron has mounted a defense of the UK after reports Russian presidential spokesperson Dmitry Peskov described it as a "small island." Peskov denied the claims and dismissed them as rumors that had no basis in reality.
British press reported on Friday morning that Peskov had made belittling comments about the UK at the G20 summit in St. Petersburg.

Reports alleged Peskov had described Britain as "a little island no one listens to," following diplomatic talks on Thursday evening regarding Syria.

Peskov quickly addressed the reports, dismissing them as rumors and stressing that Russia had very "positive relations with the UK."

In response, Cameron said that he had been informed that Dmitry Peskov had not made any such comments. In spite of this, the PM proceeded to mount a heated defense of the UK, citing its achievements and "proud history."

"Britain is an island that helped to abolish slavery that has invented most of the things worth inventing, including every sport currently played around the world, that still today is responsible for art, literature and music that delights the entire world," said Cameron.

He then continued his gung-ho defense of Britain, clarifying that "we are not just an island."

"We are a collection of islands. I don't want anyone in Shetland or Orkney to feel left out by this," he concluded, adding he would be happy for his comments to be set to music.

The diplomatic kerfuffle flooded the UK press, with the Guardian newspaper even asking its readers to vote on whether Britain is in fact "a small island no one listens to."

YES is winning by a big margin RT @commentisfree POLL: Is Britain a small island no one listens to? http://t.co/6pGqiRtyYh

— Glenn Greenwald (@ggreenwald) September 6, 2013
The meeting of the G20 leaders in St. Petersburg has been eclipsed by the conflict in Syria. Last week David Cameron had his proposal to support the US in a military strike on Syria shot down in parliament.

Russia has sought to restrain the US from intervening in Syria with military force, urging the international community to wait for the result of the UN investigation into the use of chemical weapons. However, the US maintains it has concrete evidence that the Assad government ordered the use of chemical weapons in an attack on the outskirts of Damascus on August 21.

A senate committee voted in favor of military intervention on Wednesday, but Obama will still have to convince Congress if the US is to carry out a military strike on Syria.