Morsi refuses to resign, meditates on 'legitimacy' in address as unrest continues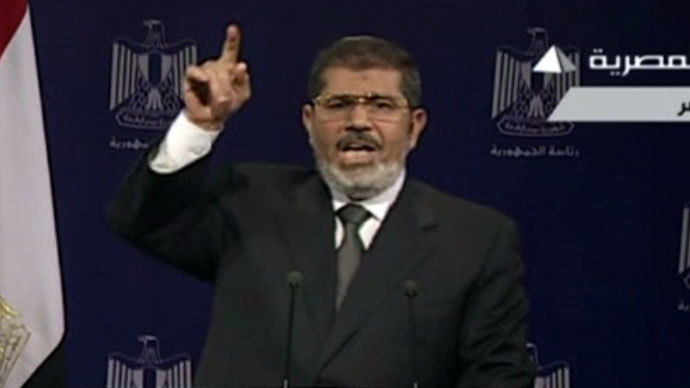 Just as the death toll in clashes in metropolitan Egypt spiked upwards, President Morsi has addressed the nation Tuesday, blaming 'remnants of the former regime' for national unrest, but giving little details of solutions to the ongoing crisis.
Follow RT's LIVE UPDATES on protests in Egypt

"I listen to [protesters] under the democratic process. However the remnants of the former regime, and its figures, are fighting against democracy. If they come back to the people, they will be rejected. They are accustomed to corruption, rigging elections, sucking dry the blood of the people and gobbling up the riches. Syphoning their money abroad. They cannot thrive in democracy. Those figures are taking advantage of the lawful anger of the youth," Morsi said in his address. 
"Egypt has its own free will, it will move forward, achieve economic productivity -- and this is not an easy task, it requires a great deal of effort, solidarity and cooperation. However, as you are aware, and the whole world is aware, that the challenges of the past remain in our way," the Egyptian President said, again referring to the "former regime," remnants, as well as to the "insistent" corruption. 
"There is no subsitution to legitimacy, no alternative - and I am open to dialogue," Morsi continued just after Midnight Wednesday. "I emphasize to you that tomorrow will be brighter than today. Protect us from falling into any trap, or following a dark tunnel, the end of which is not known to any of us," he went on. 
"I send a message: a message of love, and a message of appreciation to all of the people of Egypt, no matter what their positions are," Morsi entreated the nation as the speech continued without signs of the resolution proposal the president was expected to deliver.
"Opposition or supporters, and I urge you all to adhere to legitimacy together with me, to stand steadfast safeguarding this legitimacy. To prove to the whole world that we are capable through our democracy, without any bloodshed," he continued.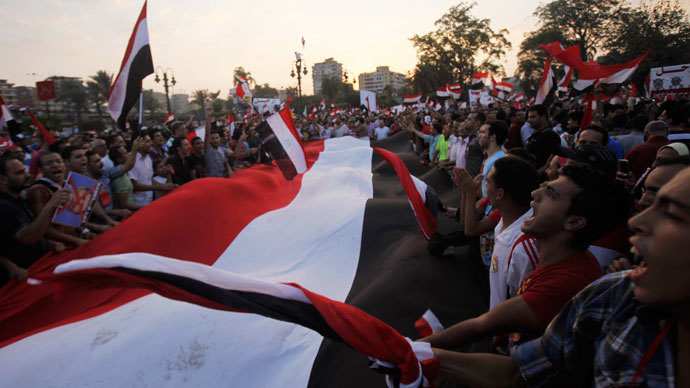 "Do not allow the revolution to be hijacked under any pretext," Morsi urged listeners before going into vague vague warnings against "malicious perpetrators." In light of the ultimatum delivered by the country's armed forced earlier in the week, Morsi added, "I urge the opposition and its supporters to steer away from insulting the army."
"If the price for safeguarding legitimacy is my blood, then I am prepared to sacrifice my blood for the sake of stability and security of this homeland," he pledged. "Let's all remember what God says in the holy scripture. I salute you and I tell you that I will walk together with you through to the end of the journey of legitimacy."

Ahead of his speech, Morsi took to Twitter to reject any ultimatums made by the armed forces, vowing to adhere to the legal framework of the Ehyptian Constitution.
The embattled president called for the Egyptian Army to withdraw a statement in which it extended Morsi 48 hours to defuse the mass protests that have rocked the country since this weekend or face military intervention. Morsi also called for rejecting foreign interference in the developing situation.
On Tuesday, Morsi met with the chief of the armed forces, General Abdel Fattah al-Sisi, and with premier Hisham Qandil, though there were no details of that meeting made public so far. 
Expletives for Morsi, cheers for the army and a man with a gun after clashes in Cairo's Kit Kat square pic.twitter.com/8xvH6xUb8a

— Kareem Fahim (@kfahim) July 2, 2013
A military source has confirmed to Reuters that they were aware of Morsi's Twitter statement, and would be issuing a response. 
Prior to Morsi's address Egyptian daily Al-Ahram posted details of the army's purported transition plan, which presumed the president's ouster.
Al-Ahram reported that with the close of the forty-eight-hour deadline set by the Egyptian Army, one of two things is expected: either Morsi will have to announce his resignation himself, or his dismissal will be declared through a road map presented by the armed forces.
As was widely reported on Tuesday, the army intends to dissolve Egypt's current constitution and prepare for presidential and parliamentary elections. There is also a plan to enact a presidential council consisting of the chief justice of the Supreme Constitutional Court, and two other members to be decided - this trio is meant to manage Egypt's affairs during a transitional period following Morsi's resignation that would last between nine months and a year.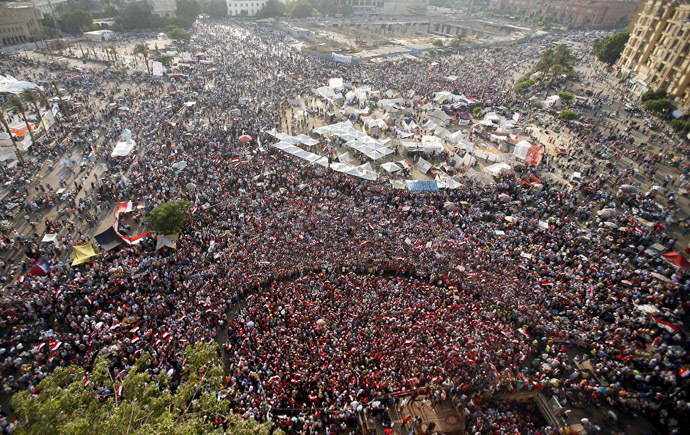 Perhaps even more serious are reported plans by the armed forces to coordinate with Egypt's security forces to detain Muslim Brotherhood leaders, placing them under house arrest, as well as confiscating their weapons and freezing their funds. 
Meanwhile, violent demonstrations in Egypt overnight into Wednesday have claimed at least 16 lives, the country's Health Ministry reported, with at least 200 more said to be injured.

Scores of others were injured in Giza neighborhood, "some of whom are in critical condition from bullet wounds," according to doctors cited by AFP. Four people in that district have been killed in the clashes, Yahia Moussa of the Egyptian Health Ministry confirmed to Al Jazeera.   
At least six people have been killed and 90 injured in continuing clashes near Cairo University between supporters of president Morsi and security forces, according to an aide to Egypt's health minister who spoke to Reuters.
Egyptian Television showed ambulances taking away casualties, as well as small fires burning while hundreds of Muslim Brotherhood and Morsi supporters wept and chanted slogans.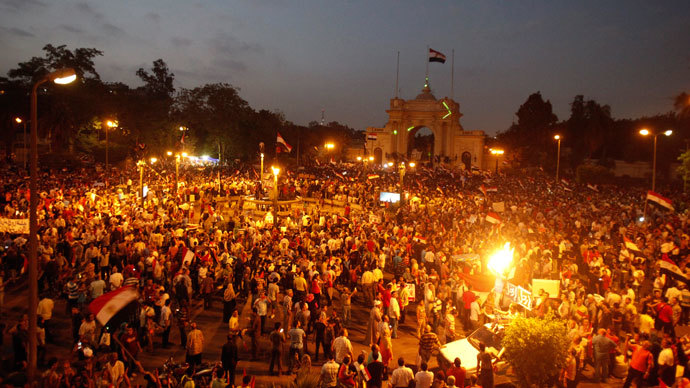 You can share this story on social media: