Bush reiterates threat to veto Iraq bill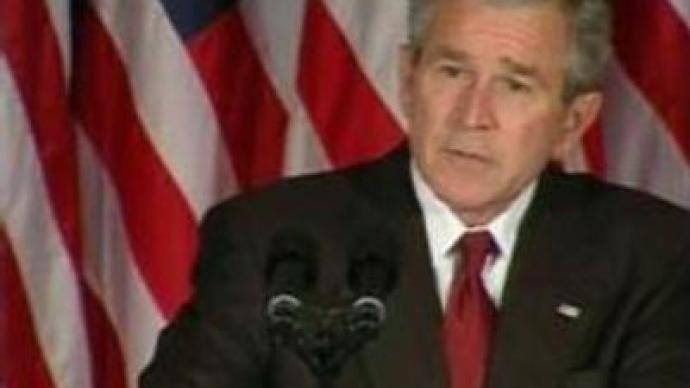 U.S. President George W. Bush accused Democrats in Congress of intervening in the Iraq war policy. He warned again that would veto any bill that implies a withdrawal timeline from Iraq.
U.S. President and the Democratically controlled Congress are one step closer to a showdown on funding the wars in Iraq and Afghanistan and neither side seems willing to back down. The U.S. Senate voted Tuesday on a complete troop withdrawal from Iraq by the end of March next year. The Senate defeated a Republican amendment that would have removed a withdrawal clause from a bill on military funding.Now it is becoming a very real possibility that the Congress will deliver a $US122 BLN supplemental war-spending bill to President Bush's desk that will include a firm timetable for troop withdraw from Iraq by March 31, 2008. President Bush once again said he will not sign the legislation.
"The bottom line is this: the House and Senate bills have too much pork, too many conditions on our commanders, and an artificial timetable for withdrawal. As I have made clear for weeks, if either version come to my desk I will veto it,"
stated George Bush.
"What is clear is that the consequences of imposing such a specific date for withdrawal would be disastrous. If the House bill becomes law the enemies in Iraq will simply have to mark their calendars,"
said the U.S. President.
"It makes no sense for politicians in Washington D.C. to be dictating arbitrary timelines for military commanders in a war zones 6,000 miles away,"
he added.Democrats argue that its time for the White House to compromise.
"Come to the table, don't wave the veto pen, come to the table. If you read the Constitution that is what we are supposed to do,"
says Barbara Boxer, U.S. Senator. The White House and Republicans are especially angry because the House and Senate Democrats attached the troop withdraw proposals to a bill that would fund the wars in Iraq and Afghanistan. They argue that the recent troop surge should be given time to work.
"The military needs this money, they deserve this money without strings attached, they deserve a chance to turn Iraq around to make us free,"
believes Lindsey Graham, U.S. Senator.But Democratic critics say the time has run out.
"What we see today in Iraq, months into the surge, is more of the same, the same violence, the same chaos, the same loss of life we've seen over the last four-plus years,"
says Harry Reid, Senate Majority Leader.Democrats say they want to work with the President Bush to find a compromise on the language that would satisfy the Administration. But at least for now, the bill is dead on arrival at the White House, where President Bush has reaffirmed that he will veto the legislation in its current form.
You can share this story on social media: