Bush & Blair: no regrets on Iraq war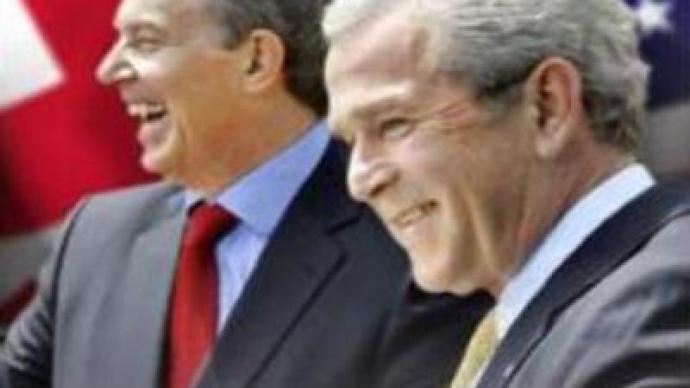 U.S. President George Bush and UK Prime Minister Tony Blair have met in Washington for their farewell summit before Mr Blair steps down in June. The main focus of the meeting was on Iraq, with both leaders saying they had no regrets.
Discussions also touched upon tightening sanctions on Tehran to force it to dismantle its nuclear programme. Other issues included climate change and the upcoming G8 summit.One week after British Prime Minister Tony Blair announced he will step down next month, he made his farewell visit to the White House.Under his leadership, Britain has been America's strongest ally and Tony Blair says he has no regrets for backing the U.S. in the war on terror.
"When it comes to the fundamental questions that affect our security and the future of the world, you should do what is right. I have tried to do that. And I believe that is what he has done, as well. And I would take the same position of alliance with America again, "
said Mr Blair.President Bush's and Tony Blair's close relationship and Blair's continuing support for the Iraq war has cost him much of his political capital.As the situation in Iraq deteriorated, both leaders fell out of favour with the public. Sally McNamara, a European affairs analyst at the Heritage Foundation says that Iraq alone will not define Prime Minister Blair's legacy:
"Tony Blair has lost popularity in Britain certainly because of the Iraq war but also because of a number of other reasons. We must not forget that he has been in power for ten years and he tends to look tired. People like a change, so domestically under his own party he has been put under pressure."
President Bush, though, showed signs that he will miss the British leader when he goes, especially as he will be forced to stand alone in his defence of the unpopular war. And during hostile questioning from the British press over whether Blair was a lame duck leader. So President Bush was quick to jump to the defence of his closest political friend.
"You're trying to do a tap dance on his political grave, aren't you, he happens to be your Prime Minister. But more importantly he is a respected man in an international arena,"
said Mr Bush.With fading international support for the four-year-old Iraq war, experts say that Gordon Brown, slated to become Britain's next Prime Minister, is not expected to have the same closeness with the White House as his predecessor.
"He may feel it necessary to distance himself from a little bit from Washington really for presentational purposes, so as not to become poodle number two, to Blair's poodle number one,"
believes Dale Brown, European Political Analyst of Washington Center for Strategic and International Studies.
You can share this story on social media: