Bulgarians take to Facebook to lambast bad, lazy, dangerous cops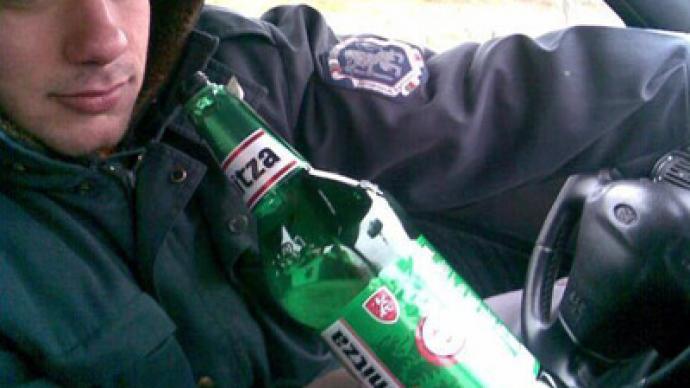 Thousands of Bulgarians have joined a Facebook group collecting photos of local police breaking rules while on duty. The law enforcement agency is already subject to special monitoring by the EU for failing to tackle corruption and organized crime.
Created less than a week ago, the "Film the Police" group already has more than 8,000 members and hundreds of allegedly incriminating photos.Most show policemen routinely taking up disabled parking spots, and asleep en masse in a patrol car during work time. Others supposed violations are more serious; a photo of a policeman at the wheel holding a large opened bottle of beer, or an officer on a motorcycle performing a dangerous stunt on the wrong side of the road. Some are accompanied by names and comments showing specific policemen demanding bribes, or calmly looking upon a group of apparent prostitutes on the curb.
Long-standing frustration with law enforcement boiled over in July, when ordinary citizen Boyan Maximov, photographed three policemen dozing peacefully in a patrol vehicle and posted it on social networks.The picture became a symbol of police behavior and spread like wildfire, until Maximov became the subject of stories on national TV.Since then Maximov claims he has been constantly harassed by officers in his hometown of Varna, who have stopped, searched and fined him for not carrying his ID with him when taking out the rubbish and for walking his dog without a leash.The scandal took another turn when Varna police spokesperson, Kalina Pencheva called, Maximov a "a fool. A peasant fool, who has nothing to do and is bored," on national television.Initially the comments went unpunished, but as outrage grew, Pencheva was suspended earlier this week "for harming the prestige of the police."
Nevertheless, the development is unlikely to put a stop to the growing dissatisfaction with the country failing to reap the benefits of joining the European Union, a process completed 5 years ago.Bulgaria remains by far the poorest country in the EU, and according to Transparency International is seen by its citizens as more corrupt than any other state in the union.Police inefficiency and internal corruption are seen as major reasons.A previous EU report said police work in the country resulted in "reduced public confidence in public institutions and the political system, infringement of fundamental rights and freedoms of citizens, hindrance of economic growth, and restriction of economic freedom and entrepreneurship in selected business sectors."The country has failed its latest corruption test this summer and will now be under special monitoring until at least the end of 2013.
You can share this story on social media: