Bugs found in Georgian opposition parties' offices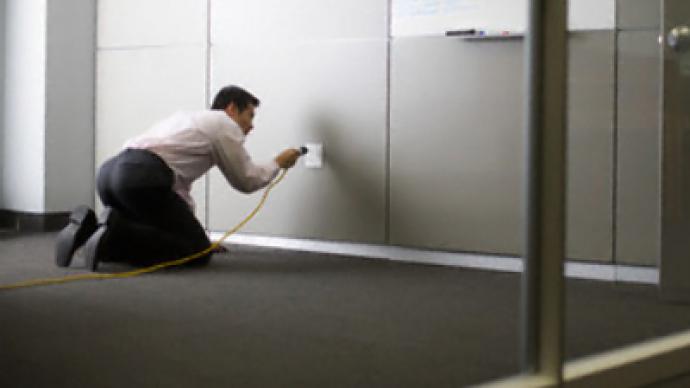 Eavesdropping bugs have been discovered in the offices of three Georgian opposition parties - installed in electrical sockets.
The leader of the Way of Georgia party, ex-minister of foreign affairs Salome Zurabishvili, said that the devices were found on Monday where meetings take place among leaders of the party, which is demanding the resignation of current Georgian President Mikhail Saakashvili.
"They were found by employees of the party in the electrical sockets of the room," said Zurabishvili, who showed the devices to journalists.
"Eavesdropping on the party is one of the forms of repression in regards to the party."
She added: "The authorities must uncover and punish those who installed these devices in the party office."
Zurabishvili also said they had called the police, who, however, made no attempt to hurry to arrive at the office.
"We are sure that the bugs have been put there by the interior ministry. In any other democratic country there would have been a political scandal after that, but here, I bet the authorities will blame the opposition for putting bugs in its own office," says one of the opposition leaders Levon Gachechiladze.
In the office of another opposition party, The Georgian Conservative Party, more listening devices were found on Tuesday.
As Georgian Conservative Party leader Zviad Dzidziguri says, since November 7 when the authorities dispersed a peaceful demonstration, around 30 such devices have been found in offices of various opposition parties.
"Not one criminal case has been opened into these matters, which indicates who is bugging the opposition," said Zviad Dzidziguri.
In a third party's offices, those of The Alliance for Georgia, listening devices were also found on Tuesday.
The Georgian Ministry of Internal Affairs announced on Tuesday that a case had been opened into the discovery of bugging devices in offices of opposition parties, but said that the devices were not particularly hard to get.
"To acquire devices like these a special license is not needed and any citizen can buy them abroad or in Georgia," read a distributed announcement.
"The above-mentioned circumstance complicates the investigation," said the Ministry.
Georgian ombudsman Sozar Subari said on Tuesday that the discovered bugs "point to the establishment of a repressive regime based on bugging opponents."
"Proving who installed the devices won't be difficult as the name of the seller and buyer have been encoded in them and an average citizen cannot simply buy them," said Subari.
You can share this story on social media: