Nationalist icon's murder a 'tit for tat' killing by Chechens – source
Published time: 2 Jul, 2011 09:15
Edited time: 2 Jul, 2011 16:30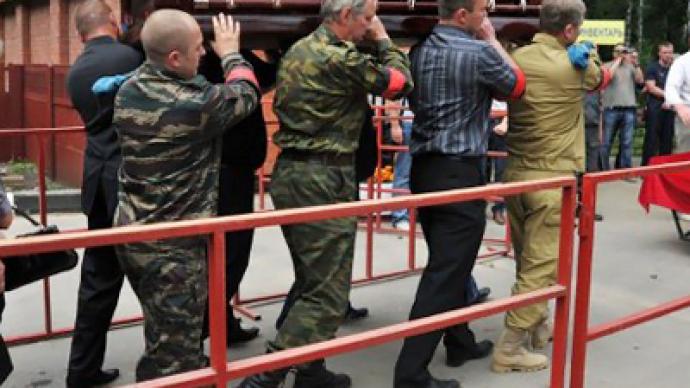 The murder of Yury Budanov, a disgraced former Russian Colonel, is most probably revenge for the kidnapping and killing of a Chechen teenager, Elsa Kungayeva, or other Chechen campaign victims, a source in the Russian law enforcement said.
­"Certain circumstances allow us to say that the murder of Yury Budanov was carefully planned and prepared for by the people who considered it their duty to take vengeance on him for the death of Elsa Kungayeva or other victims of the Chechen campaign," said a source in the Russian law enforcement as cited by the Interfax news agency.

According to the same source, it became possible to obtain some valuable information as a result of a special agents' trip to the North Caucasus, where they questioned those who talked with Budanov shortly before he was killed. And now there are good reasons to suppose the murderers' tracks lead to the North Caucasus.

The results of the interrogations of Budanov's acquaintances revealed that after his release from the penal colony, the nationalist icon was careful to keep his places of stay secret.  

"We are credibly informed that not long ago an attempt to kill Budanov was made in Rostov-on-Don, but he did not appeal to police for help," the unnamed source told Interfax.

Several sources in law enforcement bodies have previously tipped Rosbalt news agency that Budanov's murder was organized in Chechnya. "Much has already been clarified in this case – we know the motives, the suspects. We haven't arrested anyone yet, but we certainly will in the near future. The big question is whether or not we will manage to put the masterminds to justice. What we know for sure is that the crime was planned and prepared in Chechnya," the sources say.

They also reported that the second attempt to kill Budanov was made in March 2011, when the criminals got credible information concerning his whereabouts. The information was provided by a member of law-enforcement agency of the Moscow region at the request of his acquaintances from Chechnya.

Yury Budanov was shot on June 10 in one of Moscow's biggest streets as he was leaving a notary's office.

Meanwhile, the question of the so-called "Chechen revenge" is being now raised more and more often by the media. The Russian Defense Ministry is receiving numerous requests from Chechen investigators to obtain the personal information of military men who participated in the Chechen campaigns. The information includes their photographs, addresses and contacts. Senders of requests refer to 10 year-old criminal investigations. They say that many in the Russian military who took part in Chechen campaigns fear for their lives.