Bryant scores 40 as Lakers roll past Magic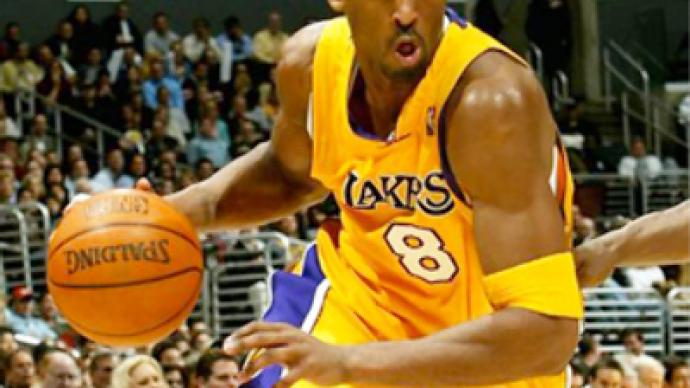 The Los Angeles Lakers sent a strong message to all the doubters and naysayers, with a 100-75 thrashing of the Orlando Magic in game One of the NBA finals series.
Kobe Bryant dominated the game, finishing with 40 points, 8 rebounds and 8 assists, while the Lakers did a solid defensive job on Dwight Howard.

'Superman' was held to only 12 points, and while starting point guard Jameer Nelson returned for the Magic after a four-month break, he clearly has yet to get into his rhythm.
"It's tough. You know, when he's (Bryant) got everything going, every shot in the world, nothing we can do about that. The thing that we can do is play harder, play more aggressive. On the defensive end, go for more loose balls. We can control that stuff. But somebody making those unbelievable shots, there's nothing we can do about it. But the stuff we can control, we've got to control, and tonight we didn't," Dwight Howard said after the game.
While Kobe and Co. were doing everything they wanted on the court, Orlando shot a woeful 29.9 percent from the field – perhaps the main reason for their defeat, apart from Kobe, of course.

"Well, he had the smell, and he (Bryant) found kind of the angle what he wanted to do out there on the floor and carried that game into the second half, just carried the game his way. I thought we went there a little bit too often, but he said, "keep coming back. I'm okay." So we did," Los Angeles Lakers head coach Phil Jackson commented Bryant's performance.
"I just want it so bad, that's all. I just want it really bad. You just put everything you have into the game and your emotions kind of flow out of you," the game's hero said.
The Lakers are seeking their 15th NBA title, and Phil Jackson is going for his 10th, which would move him past Red Auerbach for the most all-time trophies.
Game 2 is also at LA's Staples Center on Saturday.
You can share this story on social media: