Car-bomb threat sparks megabrothel evacuation in Spain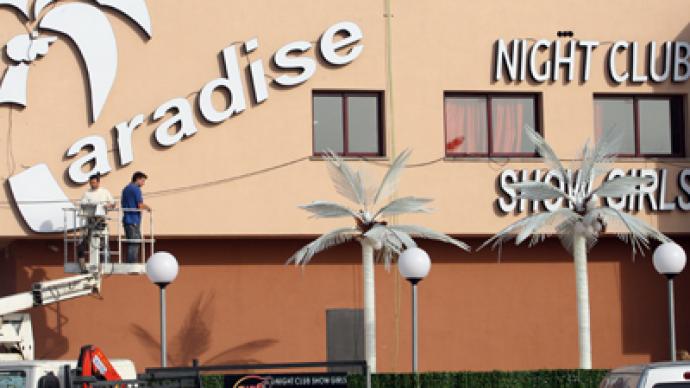 Some 300 people had to evacuate from a Spanish brothel after masked men left a car bomb at its parking lot. It's the second explosives attack on the premises this month.
Police in the town of La Jonquera near the border with France were tipped off Sunday night by a security guard at Paradise, one of Spain's legal brothels.
The guard reported that a group of masked men sped up to the parking lot in two cars. One of them left his vehicle armed with a weapon and shouted that he was leaving an explosive-rigged car behind. He then left the scene along with others in the second high-performance car.
People were evacuated from the building as the police bomb squad found and disarmed the explosive device. Spain's Europa Press agency says it consisted of two butane gas tanks, around a kilogram of TNT and dynamite, with a fuse attached, citing sources close to the investigation.
The second car involved in the attack was later found burned, the agency said.
Local media reported a previous attack earlier this month. Two grenades were thrown at the facility from a car, with one of them exploding. Police believe that the perpetrators in Sunday's incident were also involved in the previous episode.
People living in La Jonquera believe the incident to be part of a turf war between gangs.
Mayor Sonia Martinez said she would try to close Paradise because of the damage it does to the image of the town, which has about 3,000 residents.
Paradise was opened in October 2010, and its 200 sex workers serve clients from both Spain and France. It's located just next to a tunnel entrance, which goes under the Pyrenees Mountains linking the two countries.
You can share this story on social media: