Thousands rally for France's Brittany reunion and greater autonomy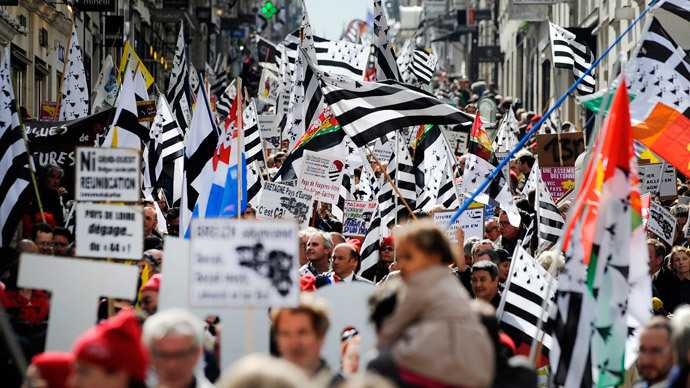 Nantes residents in France's west rallied for their city's reunification with Brittany where it historically belonged, and the greater autonomy of the area.
Those who gathered at the Saturday event demanded that Brittany's rights be expanded and its historical boundaries restored. Among the main slogans that were shouted by the crowd, were: "Get Nantes back into Brittany", "Reunite Brittany", and "Live, work and decide in the reunited Brittany."
The estimates of those present at the march range from 5,500 people, according to police, to up to 15,000 people, as the organizers claim.
The majority of the participants were representatives of the "Red Hats" movement who are known for speaking out against Francois Hollande's economic policy last year.
"Currently, France is the most de-centralized state in Europe," the mayor of the town of Carhaix, Christian Troadec, stated at the rally.
Forte mobilisation à nantes pour réunification bretagne. Enfin une manif de soutien à @manuelvalls#eelv#bzhpic.twitter.com/8TyYSjqNwp

— Ronan Dantec (@RonanDantec) April 19, 2014
According to him, Brittany's people have long deserved further autonomy in the country.
"It's high time that we here, in Brittany, where 4.5 million people live, could be on the same level as are the states in Germany or large Spanish provinces, as Scotland and Wales are."
The protests were triggered by a statement from the new French premier, who had promised to reduce the quantity of regions in France to curb administrative spending.
The regions were officially created in France by a law on decentralization in 1982. In France, the regions get all tax revenues from the center. However, they don't have any legislative independence.
"It's needed to review this debate absolutely, or we'll demonstrate once again that France isn't capable of reform. Our main ally in this is the government," the senator of the European Greens party, Ronan Dantec, said.
Mobilisation réussie à Nantes pour #réunification#bzh. Entre 7 et 10000 personnes... Dont des groupes supporters FCN pic.twitter.com/Qp6da8AxEw

— Ronan Dantec (@RonanDantec) April 19, 2014