$1,500 fine or demotion for UK soldiers over racial and sexual abuse of Afghan civilians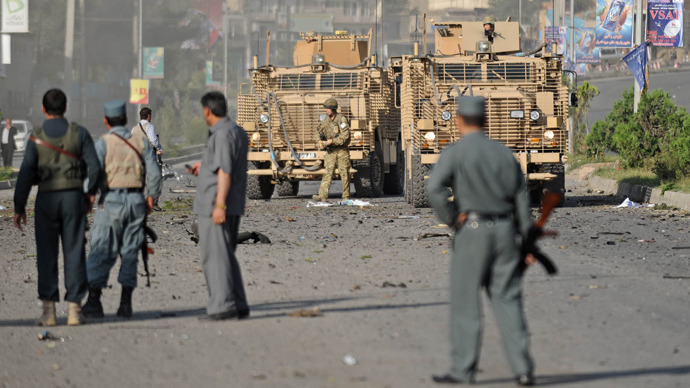 Two British soldiers have admitted abusing Afghan civilians at a court martial hearing in Germany. One pleaded guilty to indecent behavior towards a child, landing a fine of £1,000 ($1,530). The other was demoted after racially abusing an Afghan man.
At the trial, which happened in Sennelager, northwest Germany, one of the two guilty soldiers – identified as 'Soldier X' – said that in December 2011 he pulled an Afghan boy's hand towards his crotch and instructed him to 'touch my special place.'

'Soldier X' further admitted to insulting a different Afghan child between October 2011 and January 2012. Video footage was captured of both incidents. He told the second child to "f*** off" and called him a "f****** c***." The defense lawyer stated that the comments were in imitation of US comedy film 'The Hangover,' but conceded that his client had an 'immature' sense of humor.  He pleaded guilty to 'an act that is prejudicial to good order and service discipline.'

He was cleared of forcing an Afghan girl to touch him on a separate occasion.

The second soldier, known as 'Soldier Y,' admitted to being involved in photographing a grown Afghan man with a sign reading "Silly Paki" hung around his neck, between October 2011 and January 2012.

He pleaded guilty to a racially aggravated offense likely to cause harassment, alarm or distress under the Crime and Disorder Act.

His defense lawyer said that his godfather is black and his best friend is Filipino. "He accepts that it shouldn't have happened and that he stepped over the line," she said.

The soldiers were granted anonymity on the grounds that identifying them could endanger them and their families.

A third unidentified man, 'Soldier Z,' their patrol officer, was declared not guilty. He had stood accused of failing to deal with the offenses in his professional capacity as a patrol officer. However, the prosecutor, Lt Col Jane England, said that pursuing charges against him would not be in the public interests. 
According to some reports on the case, some of the abuse took place in front of "groups of soldiers," RT contributor Afshin Rattansi said. He believes this case will have a long lasting effect with people trying to figure out who the soldiers were seeking for reprisals against not only the families of these soldiers but the whole regiments.
"This kind of verdict will resound around the world in any country and amongst any groups of people that think the Britain should not have been involved in Afghanistan at all," Rattansi said. "I'm sure if you are a young Afghan, and certainly if you are a young Afghan concerned in this particular case, your sentiments towards the British military will be locked in stone and generations of Afghans will despise not only the British military but everything Britain is."