British Premier announces troops withdrawal from Iraq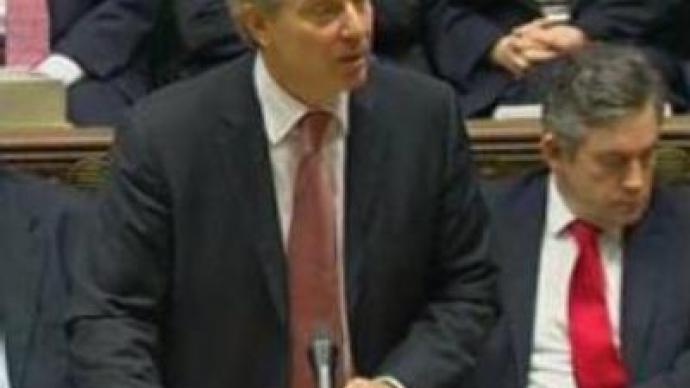 British Prime Minister Tony Blair has announced plans to withdraw 1600 troops from Iraq by the end of the year. The announcement follows a 5-month long security operation to contain violence in British-controlled Basra.
Tony Blair's announcement has been broadly welcomed. Still, despite constant pressure on Blair to withdraw all of the troops immediately, he said Britain will keep its presence in Iraq as long as they are needed there.
"In the coming months we will transfer more responsibilities directly to Iraqis. I should say that none of this will mean a diminution in our combat capability. The actual reduction in forces will be from the present 7,100 to roughly 5,500,"
said Mr Blair.
"I think the statement was contradictory – in it he claimed that British troops were leaving Iraq – that is obviously welcome. Bbut at the same time he promised more of the same policy within the region: complete support for Israel despite its illegal activities in occupying Palestine and constructing the wall, and continuing the opposition to Iran. And I see in all of this the danger of a whole new conflict with Iran – a repeat of a complete disaster in Iraq,"
commented MP Jeremy Corbyn.It seems that Tony Blair's speech will do little to help the Prime Minister to improve his image that has suffered greatly since he got his countrymen involved in Iraq.A total of 132 British Armed Forces personnel have died serving in Iraq since March 2003. The funeral of the latest has coincided with Tony Blair's announcement. There are likely to be more casualties, so some say the Prime Minister's decision has come a little late.Besides, the war in Iraq has also resulted in the death of thousands of civilians:
"We've been in the act for 4 years and sadly the situation throughout that period has not got better, it's got worse. Thousands of civilians and many of our own servicemen have given their lives. This Prime Minister's worst legacy will be his disastrous decision to take the country into war in Iraq. There may be an attempt to retrieve some of his reputation by this announcement and to withdraw and pass it off as the beginning of the end of a successful venture. But it's a complete catastrophe – it has set back our influence in the world by many years and I just wish they'd come forward with a clear strategy to bring all of our troops home,"
said MP Michael Moore.Analysts in Britain agree the Prime Minister has been eager to see some good news out of Iraq in the run-up to his departure from the office later this year. But public reaction in Britain shows his attempts have failed.Standing by America has not brought any benefits to Tony Blair or Britain. Over 40 years ago Harold Wilson refused to support the United States in Vietnam. The media who used to compare Blair with Wilson say it is unfortunate for Tony Blair and those who supported him that he did not follow Wilson's example.Meanwhile, following Mr Blair's announcement, Denmark and Lithuania have said they're now planning to do exactly the same. Their troops will return home when their tour of duty ends in August.Currently, 450 Danish troops are stationed in southern Iraq under British command. Lithuania, which cut its contingent by half at the end of 2005, has only 53 troopers, also located in the South.
You can share this story on social media: