Red-faced ensign: Brits play 'chase the French' into US Gulf mission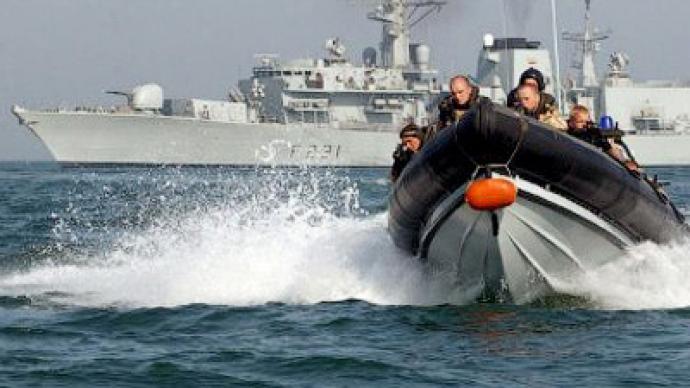 America initially did not invite the British Navy to take part in the flotilla that is flexing its muscles in the Persian Gulf, but later granted the chance – only after Paris got Washington to let it send a vessel to Iranian shores.
The British Government "was basically forced to plead with Washington for the Navy to be allowed to tag along," an unnamed diplomatic source revealed to British Telegraph.Primarily, Washington planned to get the job done with its own navy without appealing to the allies, who unanimously announced considerable defense budget cuts once the global crisis looked into their windows. Obviously, America considered its allies are unable to provide anything of practical military value to operation "Scare Tehran Stiff".At first the British seemed accept the disposition, signaling to Washington they would not mind abstaining from the Persian Gulf operational readiness exercise.But as was the case with Libya last year, it became the enthusiastic French President Nicolas Sarkozy who sort of broke through America's ice by arranging French frigate La Motte-Picquet to join American Navy in the Persian Gulf.This changed everything. To do nothing is one thing but doing nothing when the French are already there was threatening the Special Relationship with the US, so valued by Whitehall. So, on a ministerial level a decision has been taken that Royal Navy must participate in the undertaking, regardless of the military importance.In any case, America only allowed the Royal Navy to dispatch a single frigate to join the mission. In January the RN deployed type-23 frigate HMS Argyll to the Gulf.While Tehran was staging war games in the Strait of Hormuz, drilling how to block the strait in case Iran comes under foreign assault, a joint flotilla of an American aircraft carrier together with fighters, a heavy cruiser, several destroyers – and a British frigate proudly paraded into the Persian Gulf, accompanied by French frigate La Motte-Picquet. Officially, that mass of maneuver is to stay in the Gulf to prevent Iran from cutting Persian Gulf oil supply to the rest of the world. Overall, the US prepares to have three strike aircraft carrier groups in the region.This means that American might in the region is so great the presence of the British and French Navies is purely symbolic.British Whitehall now considers the consequence of negotiations over international flotilla as humiliating for Britain.
You can share this story on social media: