British navy crew arrives home from Iran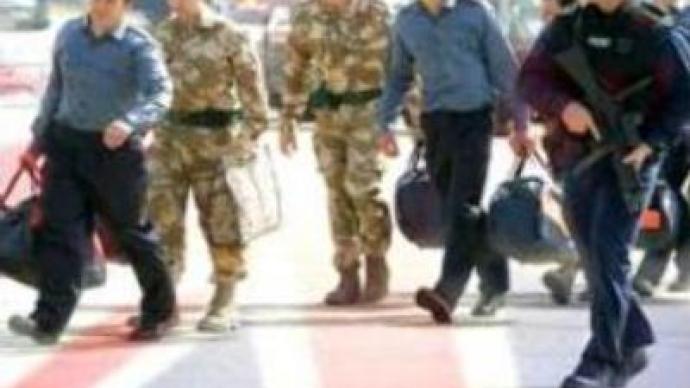 British sailors and marines have finally returned home from Iran. The British Defence Ministry has announced that some of the crew members were held in Iran in solitary confinement.
After landing at London's Heathrow airport on Thursday the British crew was taken by helicopters to a base southwest of the city, where they were debriefed about their 13 days in captivity. More detailed questioning is expected on Friday, but for the sailors politics was secondary as they were reunited with their families, who have been waiting for this moment since their loved ones were detained in Iran on March 23.Iran's President Mahmoud Ahmadinejad announced he decided to forgive and free the 15, even though Britain was not "brave enough" to admit they had strayed into Iranian territory.The dispute centred on where the British sailors and marines were when they were detained. Britain says they were in Iraqi waters on a routine UN mission. Tehran says they strayed into its territorial waters. The waterway, where British and Iranian naval vessels operate daily, remains an area of potential conflict because the border between Iran and Iraq is poorly defined. After his announcement, a smiling Mahmoud Ahmadinejad met several of the sailors and marines, dressed in smart suits, shaking hands with them and exchanging a few words through an interpreter. The servicemen were interviewed later on Wednesday.
"I will not say anything different that I have said over here. I will be absolutely completely truthful. I will definitely promote Iran. I think there is a lot of ignorance in the UK really about Iran and the people,"
said Lieutenant Felix Carman, one of the sailors.Iranian and British officials had negotiations to find a diplomatic solution to a standoff that had added to international tension over Iran's disputed nuclear programme, the subject of the UN Security Council sanctions.Analysts say that while Mr Ahmadinejad may hope for praise in the West, Britain and the U.S. were likely to maintain diplomatic pressure, separating the sailors' freedom from issues like Iran's nuclear programme.
You can share this story on social media: