London's neediest curse City bonuses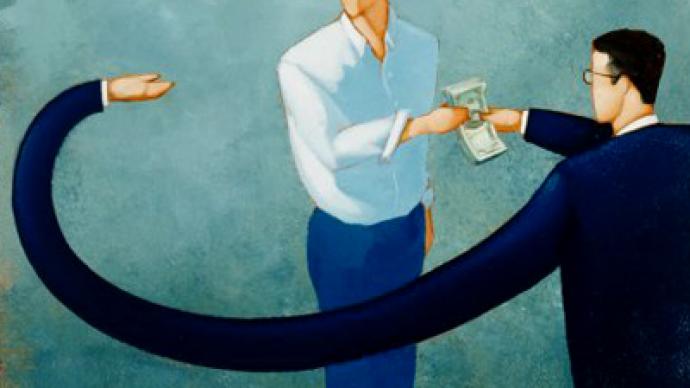 The fact that some of Britain's biggest banks have been bailed out by the taxpayer is not stopping them from giving their employees bumper bonuses.
It is a decision in defiance of political and public pressure to curb the payouts, amid the severe cuts being made elsewhere across the economy.In today's austerity Britain the homeless and needy queue up for food handouts from charities across the UK and in London, where just a few miles away it is a different world, with different rules.Prime Minister David Cameron has shied away from regulating bankers' bonuses. They might have to be a bit more open about them, but pay will not be curbed and there will be no windfall tax.Bob Diamond, Chief Executive at Barclays made his feelings clear: "There was a period of remorse and apology for banks. I think that period needs to be over.'And bankers have taken that to heart. UK banks, including some of those bailed out by taxpayers last year, will be paying out $11 billion to their staff this year. On the streets where the needy live literally from hand to mouth, that is going down badly."I think it's a disgrace. They should do what they did in the US – say, if you want us to bail you out, you can't pay bonuses anymore. But according to the British law they cannot do that," a man on the street told RT.And he is not the only one complaining. Last year saw thousands of students out on the streets demonstrating against austerity cuts brought about by a global crisis triggered by reckless bankers.Now the Right to Work Campaign is calling for a fresh wave of protests against what they are dubbing the government's surrender to the bankers, and their huge paychecks."The bankers' bonuses that we have seen, especially when people are struggling to pay their rent and to even feed and clothe their children – when people get three million pounds in bonuses, it is, quite frankly, excessive and just a disgusting amount of money!" a protester told RT.
Taxpayer lobby groups say they do not care what privately-owned banks do, but the ones that have been bailed out with taxpayer money have to show some restraint."We can't possibly be expected to stomach, at a time when the government is making austerity cuts, to stomach these enormous payouts and to watch all this go on, when these banks seem to forget that it was the public's money that saved them," reminded Emma Boon, Campaigns Director of Taxpayers' Alliance.But not everyone sees it that way. Daniel Hoffman from Zurich Financial Services says banks are still vital in supporting economic recovery, and if bonuses are not paid, the best bankers will move elsewhere.Daniel Hofmann believes "It is very crucial that banking sectors around the world are getting healthier and can support economic growth."But out on the streets, those who depend on charity to put food in their mouth find that difficult to stomach.With the latest backtracking on bonus regulation, it seems banks and the government have learnt very little from the financial crisis. In London, City bankers continue to fill their pockets, and look set to be able to go on unabated. But this time they are doing it with taxpayer money, which could have been used to help the needy.
You can share this story on social media: