British army to lose over 15% of manpower as number of fat cats in civil service rises
Published time: 23 Dec, 2012 17:46
Edited time: 23 Dec, 2012 22:00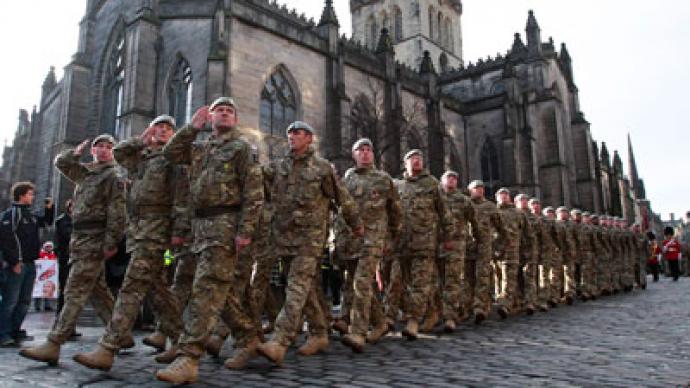 Highly paid fat cat bureaucrats jump in number as Ministry of Defense bungling costs rank-and-file British soldiers their jobs. Critics to the defense cuts argue that they will harm British interests in the long term.
The British army will lose 9,500 posts over the next 2 years as troops numbers are reduced from 97,000 at present to 82,000 by 2015. A further 6,000 soldiers will be lost through natural wastage and restrictions on recruitment; it was reported in the UK's Telegraph.
The plan will target areas where there is a surplus of troops. The infantry will be the hardest hit where the number of battalions is being axed from 36 to 31.
The Royal Artillery, the cavalry, Royal Logistics Corps and Royal Engineers are also being cut. The only areas likely to be safe are signals, intelligence and the Special Forces.
Soldiers who have been wounded and are still in recovery and those either serving in or on their way back to Afghanistan will also be spared redundancy. But those who have been wounded and have recovered will not be spared.
Although the redundancy plan is designed to save the UK treasury money in the long term, the cost of the cuts could approach £1 billion ($1.6 billion). Figures show that the first redundancies of 2,835 undertaken this year cost the armed forces £102 million.
But the cost of the next 9,500 redundancies will be far higher as many of those being axed are officers of the rank lieutenant colonel and above.
Many soldiers who are made redundant will leave with a lump sum and a full pension. A lieutenant colonel would receive a final pay out of £150,000 plus an annual pension of £24,000.
Millions of pounds will also be spent on 'resettlement courses' to help members of the armed services adapt to civilian life, at a cost of £6,500 per person.
The government plans to make up for the reduced size of the army – the smallest it has been for 100 years – with 30,000 reservists who will be at strength by 2020.
Soldiers of A Company of the1st Battalion Royal Gurkha Rifles preparing for a patrol at their patrol base in a Nahr e Saraj village, in Helmand.(AFP Photo / Bay Ismoyo)
Save now, pay later
The Archbishop of York, Dr. John Sentamu, warned yesterday that such deep cuts to Britain's armed forces risked "the safety of the nation and the peace of the world".
He said the plan to replace professional soldiers with reservists was a bad idea.
"My greatest anxiety is that these defense cuts need to be done with far, far greater sensitivity because we live still in world that is very fragile and there are people out there still, wanting to do harm to many, many people. To replace professionally trained, full time serving soldiers with part-timers, I'm afraid, for me, I don't think that can be the backbone of the British army," he said.
The announcement comes just days after Prime Minster David Cameron visited troops serving in Afghanistan and promised to accelerate their withdrawal from the country, including bringing around 4,000 soldiers home by the end of next year.
Soldiers themselves have voiced complete dismay at the forced redundancies and many see it as an act of betrayal.
"There are soldiers returning from risking their lives in Afghanistan who will be out of a job in a years' time. They would have seen their best friends killed and injured, and their reward is effectively the sack. Little wonder that many of them feel embittered and angry," one officer told the Telegraph.
Since the British army deployed a substantial number of troops to Afghanistan in 2006, there have been repeated accounts of poor treatment of wounded soldiers.
In 2008 it was reported in the Guardian that British troops who had sustained serious brain injuries were "cynically neglected" under new compensation rules.
There were also numerous reports in the UK media of wounded soldiers languishing in wards of a civilian hospital where in some cases they couldn't receive the specialist care their injuries demanded while a military hospital stood empty because of spending cuts.
Bungling civil servants
As part of the chancellor's austerity program, The Ministry of Defense (MoD) will also lose 25,000 posts. But as it struggles to get its finances in order new revelations have surfaced of wastage in the MoD of £806 million this year, it was reported by Britain's Sunday Mirror.
The embarrassing write-offs include £33 million for servicing the engines of Typhoon fighters, which was later found out, was not needed, £257 million on tanks and support vehicles the army cannot afford to run, £2.8 million on body armor that wasn't up to standard, £423,000 on over ordering night-vision goggles and £294,000 for training equipment given as a gift to Pakistan.
British Challenger tanks of 7th Armoured Brigade,.(AFP Photo / Dan Chung)
The losses were revealed in the MoD's accounts in a section entitled Losses and Special Payments. The total money lost would have paid for 38,000 army lance corporals for a year.
"Dysfunctional MoD procurement is costing taxpayers a packet. The military would not be faced with such tight budgets if civil servants and politicians stopped getting decisions on purchasing kit so consistently wrong," Matthew Sinclair, chief executive of the Tax Payers' Alliance, told the Sunday Mirror.
Fat cat's in Whitehall
As the army bears the brunt of the cuts, new figures show that the number of highly paid civil servants in Whitehall and other government departments has mushroomed in the past four years.
Despite the Chancellor, George Osborne's stringent program of austerity, his department has 29 officials paid £80,000 a year or more and 26 paid £100,000 or more. In 2008 the numbers were 20 and 18 respectively.
The figures obtained by Tory MP Dominic Raab revealed that the Home Office has more highly paid civil servants now that at any time since the recession began in 2008.
A number of other departments also have seen an increase in the number of highly paid officials, including the MoD, the Foreign Office, the Department for Work and Pensions, Department of Energy and Climate Change and Transport.
"Given the urgent need to pay off our national debt whilst avoiding frontline cuts, the astonishing number of bureaucrats on bloated salaries should be going down – not up- across Whitehall," Mr. Raab told the Sunday Telegraph.
Britain's Chancellor of the Exchequer George Osborne.(Reuters / Neil Hall)