British PM securing arms deals in the wrong place at the wrong time - activist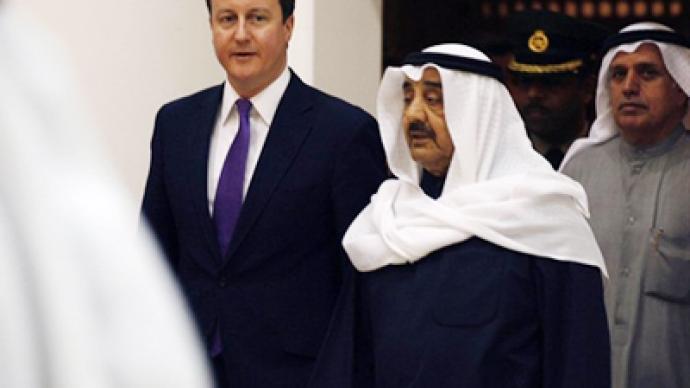 Britain's Prime Minister has taken defense firms' representatives with him on his tour of the Middle East. However, the group "Campaign Against Arms Trade" accuses Cameron of having a hidden agenda on a seemingly purely diplomatic tour.
Cameron's stated aim during this visit is to promote democracy in the Middle East and he is the first leader to have visited Cairo since Mubarak was toppled. It emerged later that he was visiting the region with the aids of the UK's leading defense manufacturers. Cameron started his tour by meeting with top Egyptian officials Monday. Once in the country, he met with Egyptian Defense Minister Hussain Tantawi, telling him that Britain wanted to support Egypt's transition to democracy.Also on Tuesday, the British PM addressed Kuwait's parliament, saying that political and economic reform was needed to ensure stability in the Arab world. He also condemned the "appalling violence which the authorities in Libya have unleashed on their own people" in recent days, reports AP.David Cameron praised the changes taking place in the region and the will of the people in achieving freedom.The tour has been planned well ahead and, in fact, it coincides with the arms fair in Abu Dhabi, which hosts 93 British defense companies that sell such goods as rubber, bullets and CS gas for crowd control.It is mostly the timing of the visit that has brought it under so much fire. In the last month, unrest spread quickly across the Middle East and the North of Africa, with police cracking down on the protesters in some countries. Earlier, the UK revoked arms' licenses to Bahrain and Libya amidst fears British arms were used against protesters in these countries, while David Cameron tried to ascertain the arms had not been used in anti-protest operations. There were accusations in the past that the UK was selling arms in exchange for oil, particularly in relation to Saudi Arabia. In recent years Britain has also undergone harsh criticism over the relations its police and military forces had with authoritarian Gulf governments. British police have frequently gone to help train police forces in countries in Libya, Bahrain, Saudi Arabia and Qatar. Britain has also authorized the supply of tear gas, crowd control ammunition, as well as small arms ammunition. The visit comes amid a back drop of cuts in defense spending in the UK, so it may seem that one of David Cameron's missions is to ensure that the UK military products will always have a market in the Middle East, the moral right of which is questioned by many during this time of intense unrest in the region.
Kaye Stearman, from the Campaign Against Arms Trade, is one of those who suspect Cameron of using his tour as a cover for sealing arms deals."Unfortunately the way the British government works – and it's not just Mr. Cameron's government it was the former Labour government as well – is that the British state is set up to support and sell arms," she said. "Is seems that no government has been willing to take the crunch and say 'We are going to be ethical, we are not going to sell arms to dictators and human rights abusers', which is what these governments are."Kaye Stearman says that arms sales are very lucrative and that is the reason that even at sensitive times such as these no government would want to give up a source of income, even if it is unethical. "The UK is cutting its own ministry of defense spending, the US is cutting its defense spending…lots of countries in the recession are cutting back, so they look for other places to sell arms. That means overseas, and they see the Middle East as a particularly rich market," she said.
Amnesty International has claimed video footage confirms British vehicles sold to Libya in 2008 are being used now against the protesters, which is highly embarrassing to the UK government. The UK government has on paper very strong rules – they are not supposed to sell any military equipment to regions where there is a reasonable risk it might be used to fuel armed conflicts, explains Oliver Sprague, the UK Arms Programme Director at Amnesty International."Particularly in Libya, the judgment has been wrong, and they [the UK government] have agreed to sales when they shouldn't have, because, I think, it was clear back in 2008-2009, when these licenses were being approved by the previous government, that there were very real risks that they would fuel human rights atrocities," said Sprague.
You can share this story on social media: