Head in sand: UK recognizes Syrian rebels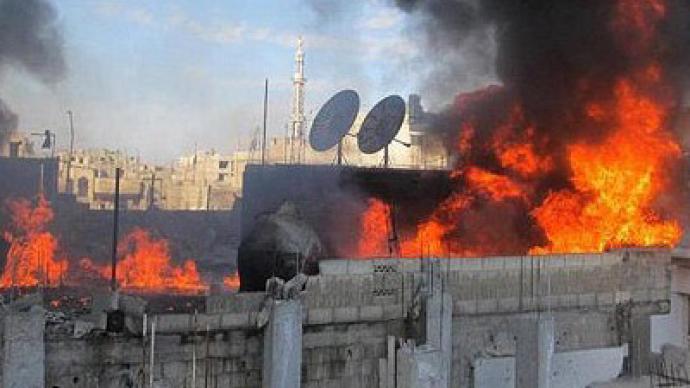 Britain will recognize the Syrian National Council as a "legitimate representative of the Syrian people," Foreign Secretary William Hague said in the run-up to the "Friends of Syria" meeting in Tunisia.
­In a move that is unlikely to placate Chinese and Russian concerns over taking sides in a civil war, Hague further condemned Assad's government as "a criminal regime."
Just minutes before a sideline meeting with members of the Syrian opposition on Friday, Hague urged the international community to "tighten the diplomatic and economic stranglehold" on Syrian president Bashar Assad's regime.
After pledging to intensify links with the opposition, Hague continued "we will now treat them and recognize them as a legitimate representative of the Syrian people."
He further claimed "it is very important in Moscow and Beijing for there to be a re-evaluation of the position" as Syria continues to slide "towards greater chaos and bloodshed."
Hague also expressed frustration at those who had accused the UK of arming the Syrian opposition.
"We have in the European Union an arms embargo on Syria, so of course we will observe that arms embargo in all directions."

The meeting of world leaders at the Friends of Syria conference in Tunis comes as the country slides deeper into conflict.
With the situation drastically deteriorating, those in attendance hope to pressure Assad to allow a ceasefire in order to provide humanitarian assistance to the worst affected areas, especially in the besieged city of Homs.
Russia and China boycotted the meeting over its inherently unbalanced approach, which they say favors the opposition.
However, Moscow remained committed to ending the violence in Syria and supported a UN plan to institute an immediate ceasefire.
"We call on the Syrian government and the armed groups…to immediately take all necessary steps to prevent further deterioration of the humanitarian situation," Russian Foreign Ministry spokesman Aleksandr Lukashevich said on Friday.
Lukashevich further urged both sides to cooperate with humanitarian relief efforts by the UN and the International Committee of the Red Cross.
However, Moscow remained adamant that both sides were responsible for the violence, and maintained that humanitarian relief must not be used as a pretext for military intervention.
Russia also expressed its support for the appointment of former UN Secretary-General Kofi Annan as the UN and Arab League envoy for the crisis in Syria.
Although Moscow remains committed to ending the ongoing crisis in Syria, Russian Foreign Minister Sergey Lavrov had previously characterized any "demand of regime change" as the direct path to "even more deaths" and "full civil war."