Pothole-calypse Now: UK council warns of looming highway crisis
Published time: 23 Nov, 2012 12:20
Edited time: 23 Nov, 2012 16:20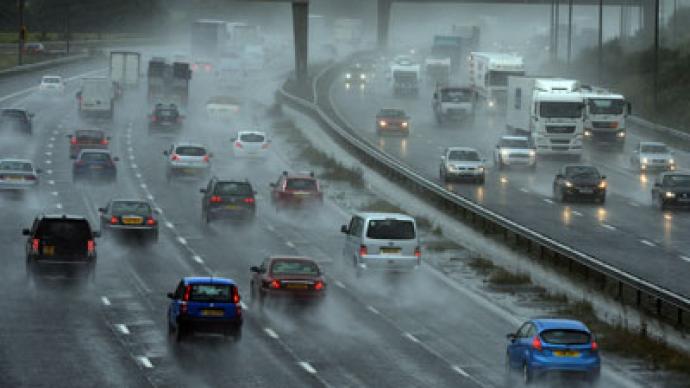 Further budget cuts to road maintenance or another harsh winter may trigger a major highway crisis in Britain, local media reported. Highway officials said they lack the funds to do anything except patch up road networks.
Decades of underfunding, several harsh winters and widespread flooding earlier this year, combined with the austerity-minded budget cuts, may bring the UK's roadways to a "crisis point" in a matter of months, the Local Government Association (LGA) said. The LGA represents some 370 regional councils across Britain and Wales.
The current cabinet has eliminated 500 million pounds ($800 million) from road maintenance, and if further funding is cut in next month's autumn budget many councils will be unable to repair their roads, the LGA said.
"For decades Whitehall funding for repairs has not kept pace with demand. Damage caused by severe winters and widespread flooding has compounded this deterioration and councils are now contending with massive cuts to roads maintenance funding and millions of pounds in compensation payouts for pothole damage," Councillor Peter Box, chair of the LGA's Economy and Transport Board said.
Box estimated that about 10 billion pounds ($16 billion) are needed "to bring our roads up to scratch," and said that redirecting funding to road maintenance would "save billions of pounds down the line from the current false economy of reactive repairs which many councils are trapped in." Repairing damaged roads is 20 times more expensive than resurfacing them, the LGA claimed.
"We are extremely concerned about this warning. Potholes are a scourge for all road users, whatever means of transport they are using," Edmund King, the president of the UK's Automobile Association said.
"Evidence suggests that not enough prevention is going on due to restricted budgets. We need both good practice and adequate long-term, ring-fenced funding to rid us of these damaging defects. If our waterlogged roads suffer heavy freezing this winter, the situation will go from bad to worse," King added.
However, the government said that even with the current budgetary constrains, it has been allocating considerable resources to maintaining Britain's highways.
"Despite the economic challenges we are facing, this Government is providing more than £3 billion ($4.8 billion) to councils across England for road maintenance between 2011 and 2015, demonstrating our commitment to maintaining our existing transport infrastructure," Transport Minister Norman Baker said.