Brazilian fans clash in hideous fight during football match (GRAPHIC PHOTOS, VIDEO)
Three people have been badly injured in clashes that erupted between rival fans at a key Brazilian league football match. A helicopter made a landing at the field to rush a victim to a hospital, while police stepped in to quell the violence.
Fans from Atletico Paranaense and Vasco da Gama charged each other during Sunday's match in the city of Joinville. Graphic footage showed rival team supporters kicking and punching each other. The police had to fire rubber bullets to stop the fighting.

Fans began the fight at the stadium 17 minutes into the match when Atletico PR was leading 1-0, according to AP. The clashes got so violent that a military helicopter landed on the football pitch to take away one of the injured, who was reported to be in coma.
Military police have landed a helicopter on the pitch. Game taking place in Joinville because of previous fighting pic.twitter.com/wSktg5GNhG

— Ed Malyon (@eaamalyon) December 8, 2013


Vasco club director Antonio Peralta, said, "We have one fan in a coma, and a supporter of the other side is dead. Or so I've heard," the Mirror Football reported.

"This is not a circus, it is recreation, a sporting event that has to bring joy and not death. At Vasco we do not accept that," Peralta said.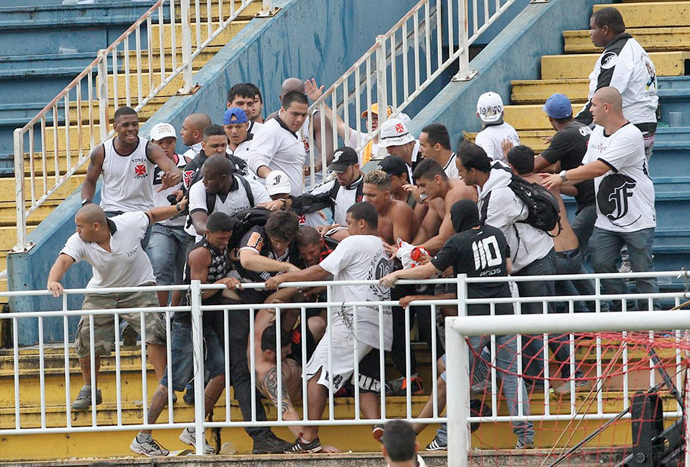 The doctors however refuted reports of the death, saying they treated one injured man at the stadium and hospitalized two in serious condition, while another one was flown out by helicopter.

"We saw a young lad lying down, getting kicked, being hit by blocks of wood. He is a human being. This needs to stop. We asked them to stop, and they did not listen to us," Atletico defender Luiz Alberto told the Mirror.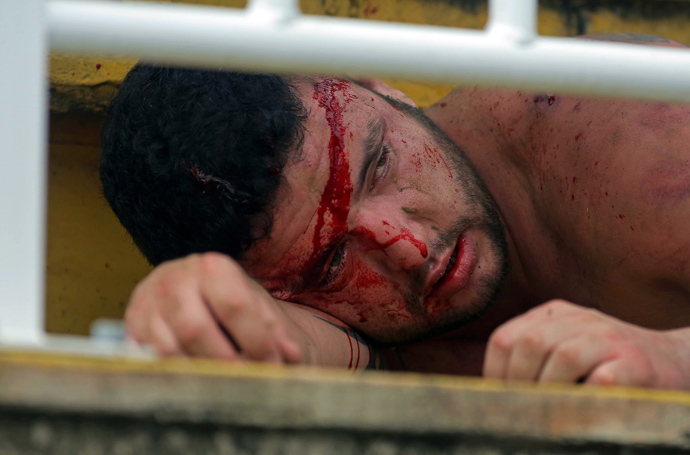 "It's sad, I'm speechless. I saw a guy lying down, I don't know what happened," Vasco da Gama midfielder Wendell told AP. "We became upset because next year we will have a World Cup and the whole world sees something like this."

Law enforcement was not present in the stadium during the match as state law in Santa Catarina prohibits police from being used at a "private event."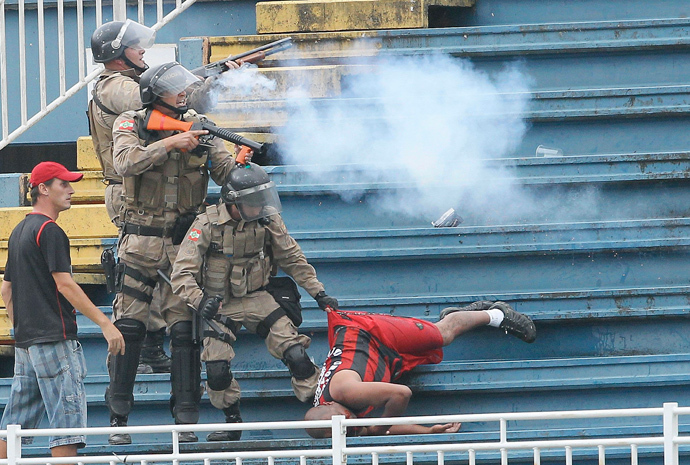 "A football match like this usually demands 80, 150 and 200 men working exclusively on it. Men that we could be using elsewhere, taking part on other operations and protecting the city," a police officer explained to Radio Globo. "The police force allocated to the match is going to work exclusively outside the stadium. Inside, only private security hired by the teams."

"We are having a World Cup here next year. It's a shame that this kind of stuff still happens," Luis Alberto told TV Bandeirantes, according to goal.com. "I saw a fan being beaten until he passed out. I've never seeing anything like this in my 20-year career. "

The match is important for both teams as Atletico Paranaense is trying to secure a spot in Copa Libertadores and Vasco da Gama is trying to avoid demotion.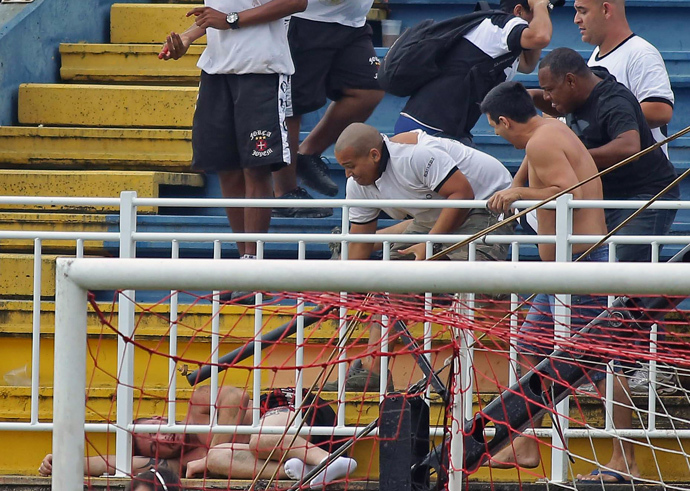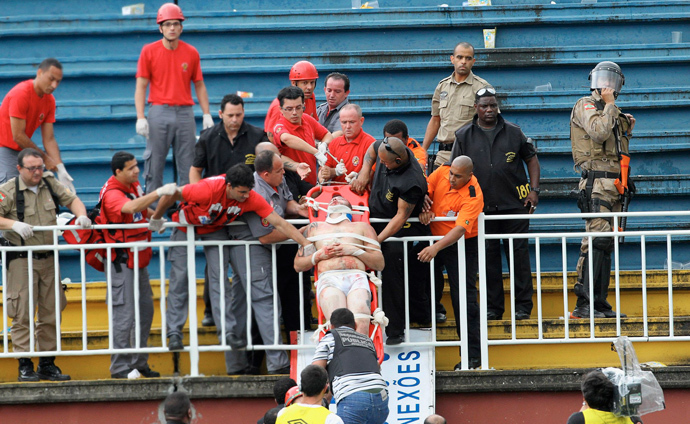 You can share this story on social media: