Suspected arsonists behind Siberian fires arrested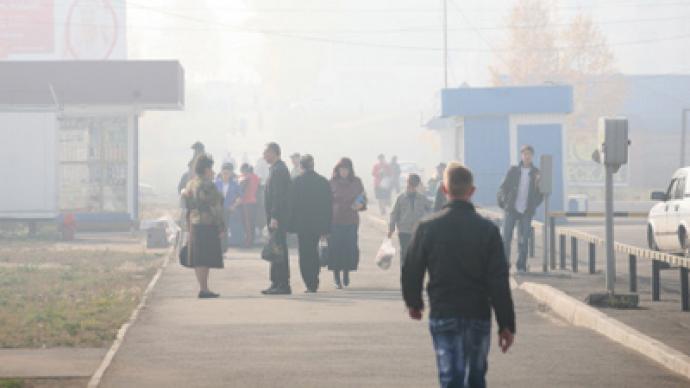 Police in the Russian city of Bratsk are investigating 11 criminal cases opened in connection with fires that have blanketed the city with thick smoke.
Since Thursday 20 people have been detained on suspicion of deliberate arson in Bratsk. Seven people were arrested on Saturday alone, the Interfax news agency reported. The head of the city government, Aleksandr Tuykov, resigned from his post on Saturday.The Itar-Tass news agency quoted emergency officials as saying that the concentration of harmful substances in the air in Bratsk has returned to normal. However, the emergency measures imposed over the city have yet to be lifted. Dmitry Mezentsev, governor of the Irkutsk region, to which Bratsk belongs, said that in the last 24 hours the situation with fires in the city has improved. Specialists from various Siberian regions are currently working in the city helping to contain the flames. By 5 p.m. on Saturday fires were extinguished in five areas of the city, while in two more areas the blazes have been contained, a local Emergencies Ministry representative told the RIA Novosti news agency. Ministry aircraft are taking part in the operation, and so far have released 245 tons of water on the burning forests. An estimated 1,600 people, including 1,065 volunteers and 55 technical units, took part in the operation, Interfax reported.  Smoke from the fires has enveloped the city for more than a week, raising the level of carbon dioxide in the air to several times higher than the norm and forcing residents to wear protective masks.  Emergency workers said that dry weather and a lack of wind are to blame for fires in the city.   However, on Friday the head of Russia's Emergencies Ministry Sergey Shoigu said that the situation was not that as grave and uncontrollable as local authorities have been painting it."Do you understand that you have ground litter smoldering right in the city center, in a recreational park, and your shoes are able to extinguish it?" he said. "And you have staged a spectacle for the whole country, making Bratsk 'famous.' People are calling and writing from Bratsk to Moscow. How is that possible?"After fires that hit Russia in the summer of 2010, Russian federal authorities allocated unprecedented funds in 2011 to control blazes across the country, including five billion rubles to buy special equipment to extinguish fires and 3.7 billion rubles to finance forest protection measures, the Kommersant newspaper reported. Of these funds, the Irkutsk region received 354 million rubles, which is 25 percent more than in 2010, the newspaper noted.
You can share this story on social media: